As Temperatures Drop, Sauna Sales Rise
US sauna manufacturer hits historic production numbers over the summer of 2015, and plans to continue that growth during the winter season.
Press Release
-
Dec 8, 2015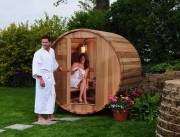 Holland, MI, December 8, 2015 (Newswire.com) - Over the course of this past summer, West Virginia-based sauna manufacturer Almost Heaven Saunas saw an impressive increase in sales when compared to Summer 2014. It was an exciting realization because during the heat and swelter of summer, customers don't tend to think of purchasing a sauna. Sauna sales traditionally start to spike during the autumn and winter months.
Steady sales during the warm months are proving to be merely a small glimpse of what's in store for the veteran sauna manufacturer this season.
Right now, at their factory in West Virginia, Almost Heaven Saunas is hitting previously unimagined production numbers, thanks in large part to new equipment, solid procedure, and a team of exceptional employees.
And it's all coming together to meet high customer demand. It would appear that as more Americans learn about the health and wellness of traditional sauna bathing, they're on the lookout for an exceptional product that will give them the experience they are looking for. And with nearly 40 years in the industry, Almost Heaven Saunas is well positioned to serve an especially diverse range of customers.
As the season continues, Almost Heaven Saunas will be hard at work making and shipping saunas all across the country and around the world, keeping up with increasing recognition and increasing demand.
Share:
---
Categories: Home Improvement and Renovations, Hospitality, Exercise and Physical Fitness
Tags: finland, health, home, relax, Sauna
---