ARTNYC Gallery Presents New Show: The Touch of Natural Energy
Press Release
•
Jul 13, 2022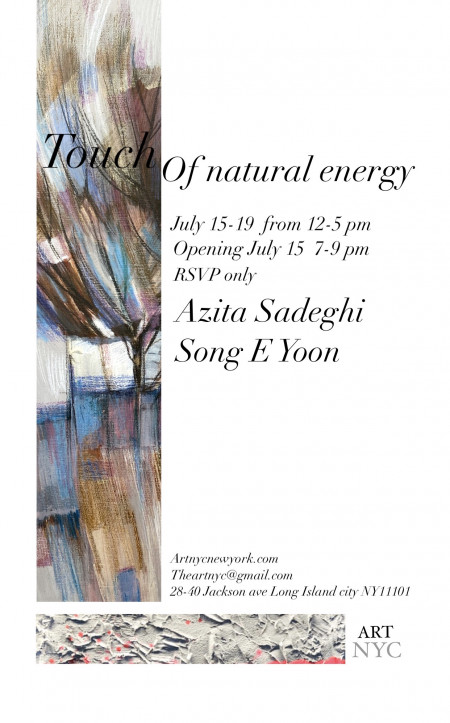 NEW YORK, July 13, 2022 (Newswire.com) - ARTNYC Gallery will present a new exhibition, showing paintings from Iranian artist, Azita Sadeghi, with a glimpse of modern Iranian art, inspired by foremost modern artist Sohrab Sepehri, in collaboration with artist Song E Yoon, a Korean artist who is focusing on contemporary art.
The Touch Of Natural Energy features the different view of Iranian Artist, and her point of view to define the connection between human and nature, and how art is communicating with humanity through the work from Song E Yoon.
Azita is an artist who lives in Iran. She grew a deep passion for modern art while she was working toward her degree in fine art. After graduation, she opened her own art gallery and studio to continue working in the field. She has been holding several solo and group exhibitions in her home country, Iran.
When talking to Azita about her point of view in modern art, she said, "In Iran, there are many styles for you to practice art. Having a rich culture in art and literature will definitely inspire you, but what's important is how you create a new perspective coming from your soul and present a view of your surroundings. Most of the landscape reflects the natural beauty of my country of residency."
The exhibition is intended to inspire young international women in the field of art with unique views to be able to present their thoughts and to be able to progress in their career by breaking the barrier between artists and communities.
Exhibition info:
The Touch of Natural Energy will run on July 15-July 19, from 12 p.m. to 5 p.m.
Opening July 15, 7 p.m. to 9 p.m. (RSVP Only)
The gallery is located at 28-40 Jackson Ave, Long Island City, NY, 11101.
For additional info and visiting exhibition, email theartnyc@gmail.com
Azita's personal Instagram: @azitaasadeghi
Source: ARTNYC