Artec Lantec Joins the Electronic Components Industry Association (ECIA)
The Electronic Components Industry Association (ECIA) welcomes its newest member, Manufacturer Representative in Israel, Artec Lantec
Press Release
-
updated: Aug 22, 2017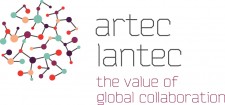 Tel Aviv, Israel, August 22, 2017 (Newswire.com) - Artec Lantec is pleased to announce becoming a member of the Electronic Components Industry Association (ECIA). Joining the ECIA provides Artec Lantec with more opportunities to connect with the world's leading manufacturers of electronic components and gain timely insight about industry affairs with regard to new products and new technology providers. 
"After serving leading technology brands for over two decades in Israel, we are very proud to be joining the ranks of top decision makers and executives of the electronic component industry in the U.S.," said Yoram Sror, Artec Lantec's CEO. "Our goal is to continually strengthen the bonds of communication with all the major manufacturers supplying the high-tech industry with innovative systems and solutions for the products of tomorrow. We look forward to leveraging our membership in the ECIA to open up new channels of business between Israel and the US."
"We are pleased to welcome Artec Lantec to our growing number of companies from the EMEA region," commented John Denslinger, ECIA president and CEO. ECIA's mission to expand its footprint into Asia and EMEA and facilitate our members' global manufacturing relationships is being realized and we look forward to working with this great team."
About Artec Lantec
Artec Lantec is an exclusive representative and stocking distributor of components and systems for Israel's highly successful electronics industry, which continues to provide the world with the most advanced technological solutions across all major business sectors. For more information, visit arteclantec.com or call 845-362-6204.
About ECIA
The Electronic Components Industry Association (ECIA) is made up of the leading electronic component manufacturers, their manufacturer representatives and authorized distributors. ECIA members share a common goal of promoting and improving the business environment for the authorized sale of electronic components to the end customer. Comprised of a broad array of leaders and professionals representing all phases of the electronics components supply chain, ECIA is where business optimization, product authentication and industry advocacy come together. ECIA members develop industry guidelines and technical standards, as well as generating critical business intelligence. For more information, visit www.ecianow.org or call 678-393-9990.
Source: Artec Lantec
Share:
---
Categories: Business Technology, Electronics, Microprocessors
Tags: ECIA, electronic components, electronics
---