"Art Island"© Set to Release New "Falling"© Collection on October 21st, 2016
Press Release
•
Oct 21, 2016
The new "Falling"© Collection is creating quite a buzz around the art market as "Art Island"© debuts their first online collection of handmade products.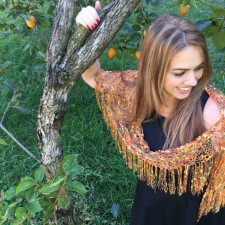 Greensboro, NC, October 21, 2016 (Newswire.com) - ​​​​​​​​​​​Falling…
I am falling in love again…
I wish I was a freckle on your beautiful face.
I wish I would light up with you when the Sun rises.
I wish I would glow in the dark when the Moon rules.
I wish I could stretch every time you smile.
I wish I could bathe in your tears and absorb your sorrows.
I wish I could take away your fears and frustrations
And always remind you that you've been kissed by the Sun…
The brand new "Falling"© Collection is set to release 10/21/2016 and will be the talk of the art community. Art Island is stocking Etsy store with many one of a kind pieces. Each piece has been uniquely created to tell a story.
"I burnt my resume when my daughter Angelina was born to fulfill my dream of being a stay-at-home mother. I found a way to nourish my creative nature and built a full-time art and craft business to support the family. After steady growth, I brought my family members aboard to allow "Art Island"© to truly set sail. We are excited to release our first online collection, "Falling,"©

Nataliya Strumila, Owner
What will this product line consist of?
"You can expect to see high quality Filigree Jewelry, versatile Scarves and Shawls, hand-painted Butterfly Earring Stands, Fine Art Photography wall décor and Poetry. Many pieces are one of a kind and the talk of the online community is that they won't last long."
What makes "Art Island"© different from other boutiques?
"Artists are known for their attention to detail and unique perspective, Nataliya Strumila lives up to the challenge. Customers say that her works are exquisitely created with each move carrying a special meaning. One of the many products that "Art Island"© offers is Filigree Jewelry, this technique is not something often seen. Filigree is a long micro-sculpting process that requires patience, skills, and creativity. Nataliya traveled to Moscow to study as an apprentice for 6 weeks in a private school to master the skills.
The Butterfly Earring Stands? These stands are a family invention and are made and hand painted by the owner Nataliya, her oldest daughter Angelina, father Leonid, sister Ksenia and husband Marius."
Original Poetry was written as a reflection upon real life events and desire to raise awareness about mood disorders and suicide prevention. Subjects vary from love, to grieving the loss of a loved one, to mastering the art of resilience. In context of the "Falling"© Collection falling means "falling in love," as well as "falling apart," and "falling down".
About "Art Island"©:
"Art Island"© is a family business ran by Nataliya Strumila. Nataliya always had the desire to create, inspire, and help people. When she gave birth to her oldest daughter Angelina eight years ago she felt that it was time to create a new meaning in life. Nataliya named her company after the biographical portrait, "The Island", created by Surrealist artist, Jarata, also known as Jack Taylor, who painted her thirty years of life experiences. Nataliya's Russian heritage and classical education has allowed her to create unique pieces that you can't find in stores.
Source: Art Island
Related Media
Tags
Related Files
Additional Links