"Art Island"© Set to Release New "Christmas in the Air"© Collection
Press Release
•
updated: Dec 7, 2016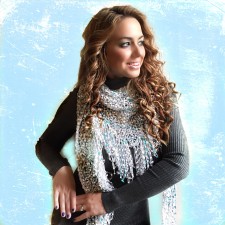 Greensboro, NC, December 7, 2016 (Newswire.com) - "Art Island"© debuts new "Christmas in the Air"© Collection. Based on Janey Clewer's song, "Christmas in the Air", "Art Island"© delights their customers by adding a Fresh Water Pearl jewelry collection to their existing real Gemstone pieces as well as new hand knit pieces made with Italian and Turkish yarns along with family wood work and photography.
What makes "Art Island"© Jewelry different than the rest?
"Art Island"© is known for their unique design style. Each piece is hand-made by the artist using a Filigree technique that requires each piece to be individually sculpted and welded to create a one-of-a-kind jewelry piece. Filigree is almost Lost Art of Jewelry making in the USA and Nataliya Strumila revives it and adds her own spin to the classical European tradition. "Art Island"© jewelry is inspired by Nature and has organic look to it that helped make it so popular among collectors.
As singer-songwriter Janey Clewer sings in her "Christmas in the Air" song, Christmas time is full of "unexplained excitement, wild anticipation, magic in the air, greeting cards, thoughts of love, happy memories." Artist Nataliya Strumila was inspired to capture this spirit in her newest collection featuring various gifts for children and women in fiber, jewelry, photography, wood craft mediums. Nataliya believes in making pieces that help carry the message of love and create timeless memories. She stands by making the world around her more beautiful and comforting one life at a time.

Nataliya Strumila, Artist, Owner
What else can you expect to find in this new collection?
Designer Fashion Scarves and Shawls hand knit by her family with Italian ladder ribbon yarns. These are specially designed to fit each woman's personality, coloring, and style. Unique wooden Earring Stands designed by father Leonid include a butterfly, rhino, zebra, tree and angel in any color. Fine Art Photography is easily available for download to be printed on post cards or canvas for wall decor.
About Art Island:
"Art Island"© is a family owned business ran by Nataliya Strumila. Nataliya always had the desire to create, inspire, and help people. Nataliya named her company after the biographical portrait, "The Island", created by Surrealist artist, Jarata, also known as Jack Taylor, who painted her thirty years of life experiences. "Art Island"© is new to the online shopping world, previously only available in selected Art shows in the USA. Customers travel across the East coast for the chance to purchase "Art Island"© pieces at her shows.
Source: Art Island
Related Media
Tags
Additional Links