Armz, a Smart Racing Robot That Incorporates AR Technology Into Its Gameplay and Block Coding Education Features, is Now 100 Percent Funded on Kickstarter
Armz is a smart robot that is equipped with different accessory parts that can be attached to the central core to create a multifunctional entertainment device and educational tool. Players can customize both the hardware and software to create a one-of-a-kind robot that can be used for racing and for learning the basics of block coding.
Press Release
-
updated: Mar 20, 2019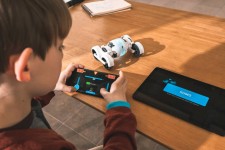 NEWPORT BEACH, Calif., March 20, 2019 (Newswire.com) - Gearbugs Corp. announced that they have successfully obtained 100 percent of their funding goal on Kickstarter for Armz, a smart robot that incorporates augmented reality technology into its gameplay and content for block coding education. The company set out to raise $10,000 on Kickstarter to finish development and produce the first batch of their latest smart toy invention.
Armz is a new type of smart robot that is designed to be fully customizable. With a 3D printer, users can acquire materials to create their own attachment accessories. The software that controls the movement, sound, lighting and behavior of Armz will be open for customization through the Armz application that will be available on both the Google Play Store and Apple App Store. 
By syncing the Armz smartphone app to the Armz robot via Bluetooth, players will be able to access multiple game modes that match one of the five attachments. The current lineup of game modes includes the following: Remote Control Racing, Steering Wheel Racing, Sumo Wrestling and Tank Battle.
While the gaming feature is one of the main features of Armz, it is also meant to be much more than just a simple toy. When Armz is not out on the field for matches, its software can be customized to be a home assistant, night light, alarm clock and more. Its inherent customizable nature makes Armz a robot that is limited only by the imagination of its user. 
Through its fun and stimulating gameplay, Gearbugs Corp. hopes that Armz will be a useful way for young children, students and adults to learn the basics of block coding. The company anticipates that the learning environment that a single Armz provides will be worth at least three years' worth of coding education.
Armz is now available on Kickstarter with exclusive early-bird prices starting at $95 (40 percent off retail value). After the campaign, Gearbugs Corp. anticipates manufacturing and delivery to be fulfilled by the end of August 2019. Any influencers or journalists interested in receiving a sample and reviewing Armz are encouraged to submit an inquiry through its Kickstarter page.
Source: Gearbugs Corp.
---
Categories: Consumer Electronics
Tags: Armz, Armz robot, Armz toy, crowdfunding, gadget, Gearbugs, Kickstarter, smart toy
---