Arizona Drug Rehab Offering Telehealth for Online Addiction Recovery Treatment
Scottsdale Recovery Center Modernizing Substance Abuse Treatment in Arizona
Press Release
-
updated: Mar 20, 2020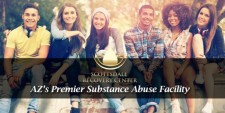 SCOTTSDALE, Ariz., March 20, 2020 (Newswire.com) - Scottsdale Recovery Center (SRC), a leading drug and alcohol rehab program in Scottsdale, AZ, has gone above and beyond to ensure the utmost safety and well being for their clients and staff regarding the Coronavirus. SRC's CEO issued a brief statement:
"Scottsdale Recovery Center has implemented several measures to minimize and eliminate risk of exposure to all respiratory illnesses, the most apparent being the Coronavirus COVID-19. At this time, there are no reported cases of COVID-19 at any of our facilities. At SRC's residential treatment facilities, the clients have access to a medical provider 24 hours a day, 365 days a year. Additionally, nursing staff is on-site and available 24/7. Our Inpatient / Residential, as well as our Outpatient Substance Abuse Programs will be continuing without interruption." Sincerely, Leander Yaiva, CEO, Scottsdale Recovery Center. 
Furthermore, and most importantly, Scottsdale Recovery Center, as of today, March 20, 2020, is offering Telehealth to all its clients, encompassing all levels of care currently being offered at all Scottsdale Recovery Center facility locations. "Technology now allows for us to offer virtual online therapeutic group and individual counseling sessions and treatment for our clients, via a secure, HIPPA compliant online portal. We've been looking into Telehealth for quite some time, being strategic about choosing the most efficient and therapeutically successful platform. That time has come and we're enthusiastic about offering this to those seeking recovery, sobriety and an overall positive state of well being and health," states Chris Cohn, SRC's Founder. SRC is offering Telehealth for all clinical services for PHP and IOP including groups, individual and family sessions. This means people can join SRC's therapeutic community from the comfort of home through cell phones or desktop computers. "All you need is an Internet connection and a desire to be part of the SRC Family. Scottsdale Recovery Center believes in the power of community and this offering will help them bridge the gap while fighting COVID-19, and moving into the future," says Cohn. 
Scottsdale Recovery Center, founded in 2009, is considered Arizona's premier drug and alcohol facility. With all levels of care, including Inpatient/ Residential, Outpatient & MAT services, SRC sets the mark for the most optimal substance abuse treatment experience in the nation and telehealth is a testament of the modernized and constant improvement of their organization in this very integral aspect of the healthcare industry (substance abuse addiction and treatment services).
Additionally, Scottsdale Recovery Center offers free inspirational and positive messaging through their social media platforms. Check out SRC's Facebook and SRC's Instagram Accounts. Contact SRC today at 1-888-NO-DRUGS or email telehealth@scottsdalerecovery.com for information on our telehealth programs. Please include your name and phone number and SRC will get you registered to attend within 24 hours. 
Scottsdale Recovery Center
10446 N. 74th St. #150
Scottsdale, AZ 85258
1-888-NODRUGS
www.scottsdalerecovery.com
Source: Scottsdale Recovery Center
Share:
---
Categories: Healthcare
Tags: addiction treatment, alcohol treatment center, alcohol treatment scottsdale, arizona drug rehab, drug rehab arizona, drug rehabs, drug treatment phoenix, telehealth
---