Arizona Drug Addiction Facility Offering Life-Therapy Guarantee on Sobriety and Recovery
Scottsdale Recovery Center Raising the Bar On The Opiate Epidemic
Press Release
-
updated: May 28, 2019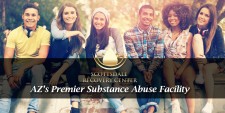 SCOTTSDALE, Ariz., May 28, 2019 (Newswire.com) - ​Scottsdale Recovery Center Announces the New Lifetime Therapy Program for Lifetime Addiction Recovery
Scottsdale Recovery Center (SRC), a staunch drug and alcohol rehab facility in Scottsdale, Arizona, proudly announces its Lifetime Therapy Program. With patients' care as its topmost priority, SRC introduces the new treatment plan to make recovery easy, consistent, and stress-free for all Americans struggling with substance abuse addictions.
Scottsdale Recovery Center is a leading addiction treatment center that has been providing patients with first-class drug rehab, medical detox, and inpatient and outpatient services in Arizona. Transforming people's lives with personalized treatment plans since 2007, the facility is Joint Commission Accredited and is fully dedicated to improving the overall quality of patients' lives.
A Rehab Industry First
At Scottsdale Recovery Center, medical professionals believe that true recovery lasts a lifetime and it takes a treatment program that lasts just as long. Drug and alcohol addiction or mental health issues don't happen overnight and neither does recovery.
To assist, support, and encourage patients on the lifelong journey of self-care and rediscovery of a sober life, SRC strives to offer an all-inclusive platform for lifetime recovery. A thorough evaluation of rehab industry practices, relapse rates, and exorbitant costs led to the creation of Lifetime Therapy Program.           
Where Insurance Companies Drop the Ball
Health insurance companies don't understand addiction recovery like SRC does. For anyone who has relied on them in the past, chances are, what they allowed wasn't enough. SRC's Lifetime Therapy Program is the most empowering, affordable, extended, addiction aftercare program available that is licensed, certified and upholds the strictest level of confidentiality.
With this treatment program, SRC aims to give not only ongoing recovery support but also frequent medical checkups, emotional learning tools, basic life skills training, and a sense of companionship from like-minded people in the recovery community.
The core purpose of the program is to help patients overcome life stresses and fight relapse triggers that follow.   When they say it's a treatment for life they really mean it!
SRC's Lifetime Therapy Program is all set to become the most empowering, result-driven, and affordable addiction aftercare program available that is both licensed and certified. Upholding the strictest level of confidentiality and meeting all needs of patients in the best way possible, the treatment program is ready to beat insurance companies when it comes to reliability.
Clients Pay and Choose as They Go
The new therapy program offers a custom-tailored treatment plan, allowing patients to modify the approach as they go. It features both traditional and holistic therapies conducted on a schedule of the patient's choice, for a lifetime.
It invites all post-rehab executives to embrace a clean, sober life and to reach their optimal wellness level while staying connected with people.          
With the motto of Patients recovery and wellness first, the Lifetime Therapy Program sets up in 30-day cycles with no contract requirements. Eliminating hassle from the equation, it allows patients to choose what works for them and helps them stay on top of their treatment program. This therapy can be the difference between treatment success and the next detox program.    
Scottsdale Recovery Center welcomes all first-timers and regular ones to get clean and sober once and for all. Complementing the drug and alcohol treatment programs, the Lifetime Therapy program offers several not-to-miss benefits right from the beginning of the recovery phase. It minimizes the risk of relapse and helps patients make healthy lifestyle and wellness choices.
Get Rehab Right, the First Time
Come to SRC to get clean and sober! Whether it's a client's first attempt at addiction recovery or they've been elsewhere for help, SRC's Lifetime Therapy Program is here to complement its drug and alcohol treatment programs by extending many of the benefits clients receive during the initial phase of recovery.
Here's How Our Guarantee Works:
1. Complete SRC's 60-day Residential Inpatient Treatment, then
2. Complete 30 days of SRC's Lifetime Therapy Program, and then be entitled to
3. Lifetime Therapy – FOR LIFE, FOR FREE!
4. Minimize risk of relapse.
5. Strengthen the ability to choose wellness.
6. Own a healthy and positive lifestyle for good.
The SRC Lifetime Therapy Guarantee defines it. Recovery Re-imagined.
When it's time to get sober, call Scottsdale Recovery Center.
For more information on Scottsdale Recovery Center, please call 1-888-NODRUGS or visit www.scottsdalerecovery.com. 
Source: Scottsdale Recovery Center
Share:
---
Categories: Addiction
Tags: addiction, arizona, healthcare, intensive outpatient program, recovery, rehab, residential treatment, scottsdale, scottsdale recovery center, sober living, sobriety, treatment
---