Arendai Announces Harmony 1.0 Solution for Autonomous Logistics
Press Release
•
Oct 11, 2022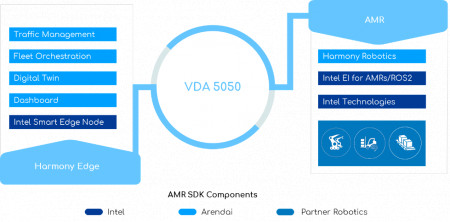 SAN DIEGO, October 11, 2022 (Newswire.com) - Arendai, Inc., a pioneer in innovative software management solutions for the automation of logistics and warehouses operation, is using Intel platforms and software technologies for Autonomous Mobile Robots (AMRs) operations with Edge Computing support.
AMRs built for logistics and warehouses automation are a change agent for companies pursuing Industry 4.0. They bring clear ROI, efficiency, and OPEX savings. However, a big challenge is having a software framework for logistics and warehouse automation, specifically one that leverages edge computing potential while providing interoperability among diverse AMR products from different vendors with heterogenous capabilities. This challenge impacts the deployment scalability and cost, hindering AMR application providers from bringing new solutions to the ecosystem.
Arendai's Harmony 1.0 is a software solution for the automation of logistics and warehouse operations. It enables management of AMRs from different vendors, introduces expanded AI capabilities to AMRs using edge computing, implements digital twin for predictive maintenance and operations optimization, and creates a safe environment for AMRs and humans collaboration.
Harmony uses the Intel® Edge Insights for Autonomous Mobile Robots (EI for AMR) on the AMR platforms and Intel® Smart Edge on the edge platforms for deploying edge computing applications and global management and orchestration services for AMRs in an environment.
"Our Harmony product is critical for scalable growth and increased ROI for the logistics centers of the future, as it provides holistic optimization from a fully integrated solution while eliminating paperwork and human errors. Intel EI for AMR and Smart Edge enables Harmony to accelerate deployment of customer applications, using pre-validated, and pre-integrated solutions by reducing implementation and development time," said Walter Buga, Arendai CEO.
"The edge plays an essential role in converging the AI inference from AMRs, global trajectory planning, and predictive maintenance," said Christine Boles, Vice President and General Manager of Federal and Industrial Solutions at the Intel Corporation. "This collaboration enables a software framework for AMR control and orchestration through the edge, providing interoperability and orchestration across diverse AMR products. Intel Smart Edge and the Edge Insights for Autonomous Mobile Robots are providing the Arendai solution with an edge-native platform for managing microservices, as well as a software stack for building mobile robot applications — all optimized on Intel hardware."
Intel Smart Edge is an edge-native distributed computing platform that enables deployment and management of container-based workloads with cloud-like ease, resiliency and security at the edge. Edge Insights for AMR is a software development kit for building and deploying end-to-end mobile robot applications based on the open-source Robot Operating System 2 (ROS 2).
The Harmony 1.0 Solution
Harmony demonstrates the advantages of edge computing by offloading the computation-intensive tasks from AMRs to the edge, with very low latency.
Arendai's Harmony solution enables AMRs and logistics applications to be implemented and deployed on multiple heterogenous robotic solution compatible with VDA 5050 and other interoperability standards.
The Intel Edge Insights for AMR and Intel Smart Edge enable Harmony to accelerate deployment of customer applications, using pre-validated, and pre-integrated solutions by reducing implementation and development time.
About Arendai
By applying simulation, digital twin, and AI, Arendai delivers optimal orchestration of heterogeneous AMRs and robotics solutions.
Arendai has excellent, engaged ecosystem partners with a focus on solving real customer problems and producing an attractive ROI.
Arendai is a member of the Intel® Network Builders program.
TwinsSync ™ is an Arendai registered trademark.
Intel, the Intel logo, and other Intel marks are trademarks of Intel Corporation or its subsidiaries.
Visit www.arendai.com and follow us on LinkedIn and YouTube.
Source: Arendai