Arendai and AiQ robotics Announce New Partnership to Provide a Single-Point Solution of Heterogenous Orchestration and Robotics
Press Release
•
May 25, 2023
Arendai and AiQ robotics join forces at MODERNLOG in Poznań, Poland, from May 30 - June 2 to share expertise into the world of automation in logistics and the factory of the future.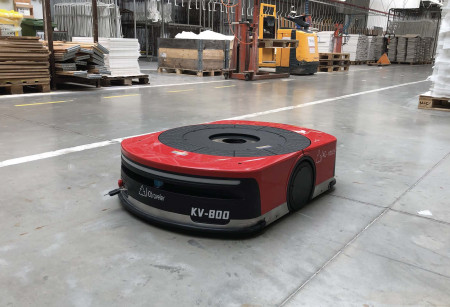 SAN DIEGO, May 25, 2023 (Newswire.com) - The partnership will enable the companies to expand their services into the rapidly growing industry 4.0. By combining Arendai's cutting-edge solution, Harmony, with mobile robotics from AiQ robotics, the partnership will develop advanced and intelligent solutions for a diverse range of use cases, giving a significant competitive advantage in the market.
"We are excited to announce our new partnership with leading robotics company, AiQ robotics," said Walter Buga, CEO of Arendai. "We believe that the combination of simulation, AI and robotics has the potential to revolutionize operations for many verticals, and we are thrilled to be at the forefront of this innovation."
In the field of robotics solutions and automation, nearly every application is characterized by individual and unique conditions. A strength of the new partnership is the ability to provide a joint customizable, flexible, and interoperable solution to any use-case. The partnership between Arendai and AiQ robotics is expected to have a significant impact on logistics and smart manufacturing.
"I am convinced that AiQ robotics' products and extensive experience, completed by Arendai's Harmony software integration capabilities, gives a great and innovative boost to the autonomous intralogistics market," said Przemysław Degórski, Founder of AiQ robotics. "Customers will be able to take advantage of a complete robotic integration solution. Our target is to deliver an easily deployed system for production and warehousing good transportation."
The companies aim to leverage their expertise in artificial intelligence in the optimization of intralogistics processes and in collaboration with human intelligence.
Arendai and AiQ robotics will have a joint exhibit at the MODERNLOG fair in Poznan, Poland, from May 30-June 2. The partners will demonstrate the integration of Arendai's software orchestration solution and a mobile robot from AiQ robotics with game-changing navigation capabilities, including the use of QR codes and SLAM.
About Arendai
Arendai Inc. is a pioneer in the delivery of innovative software management solutions for the orchestration of logistics centers and the intralogistics operations of smart factories. By applying simulation, digital twin, and AI, Arendai delivers optimal orchestration of heterogeneous AMRs and robotics solutions. Arendai has excellent, engaged ecosystem partners with a focus on solving real customer problems and producing an attractive ROI.
Please visit www.arendai.com for more information and follow Arendai on LinkedIn and YouTube.
About AiQ robotics
AiQ robotics company was founded on the basis of extensive experience gained in the robotics and automation market in the field of measurements, electric motors, motor accessories, controllers, control, complete solutions and commissioning. Customers can take advantage of ready-made products, as well as robotics and automation components enabling the construction of highly sophisticated and innovative projects.
Please visit aiq-robotics.com for more information and follow AiQ robotics on Linkedin.
Source: Arendai, Inc.