Are You Ready to Enter the U.S Market?
Press Release
•
May 26, 2016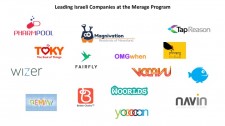 Tal aviv, Israel, May 26, 2016 (Newswire.com) - ​Many companies are faced with this critical question at some point. So we decided to collect a few valuable tips for breaking into the U.S market and forward this question to Sarit Harel, co-founder and CEO of Woorlds, an innovative technology company which was selected, out of hundreds of applicants, to attend the specialized leadership program for New Media Executives set by the Merage Institute in Irving, California.
Leading CEOs from 12 promising companies spent two intense weeks meeting with industry & academic experts, decision makers and opinion leaders who shared their insight and knowledge of the U.S market.
"User Journey" in the real world and enable brands to identify and Predict "Ideal Moments" for increased engagement.

Sarit Harel, Wooorlds
"We Israelis are all about innovation, but at the end of the day, success is not just about being the most innovative company" says Sarit Harel, Woorlds CEO. "To succeed, a new product must get people over hurdles that other products fail to do. And how do you do that? Try to follow this list of tips."
Define your clients' unmet needs. How do you do it? You keep sharpening the product line design. Your product needs to equal the market's unmet need.
Listen to your customers – Face it, we Israelis always think we bring the most innovative and sophisticated products to the market. It's true, we are really innovative, but there is someone on the other side called "the client" who needs to use it. We learned that it's not about what you have to sell, it's about what the client needs. So before telling the world about your amazing product - listen carefully to your prospective clients and make sure they are able to use it.
Research & Find the relevant information. You will learn more from talking to 15 customers than from hours of market research. The big mistake most companies do is to ask their clients about their product, instead of asking them about their needs and challenges - the reason that will make them use your product.
Don't over develop. You might spend two years developing a great product. But, unfortunately, no one in the marketplace is willing to pay for it, or it's simply too expensive, and can't compete against other products.
Innovation is not everything. Don't develop something too innovative for your clients to figure out what to do with it… Your clients might think its great, but if they can't see how it can serve them – they'll pass.
Put your ego to rest. A smart person I met during my tour, told me it took him several years of living in the U.S to really understand the American culture. One of his biggest discoveries was: "I am from Israel, so I am already perceived as smart. Be modest. The Americans don't like dealing with startups CEO's with big egos."
"Beyond these practical tips, we returned to Israel armed with a network of new contacts for prospective partners, customers & investors. No doubt in my mind this intensive time will serve
Woorlds well in the near future" says Harel.
Tips are courtesy of the Merage expert team:
Mitchel Brin, Joel Calvo, Imran Currim, Thomams Eppel, Michal Miasnik, Sasha Strauss, Lisa Barron, Bruce Money,
Alan B Sellers, Stuart Volkow, Eyal Aronoff, Ari Shen, Amir Banifatemi.
http://www.merageinstitute.org/directory/mentors/
Sarit Harel is the CEO of Wooorlds, a promising Israeli startup which developed a unique solution for predictive analytics. The company managed to understand the DNA of "User Journey" in the real world and enable brands to identify and Predict "Ideal Moments" for increased engagement.
Source: Wooorlds
Related Media
Tags