Archery Tag® WIN BIG Video Contest
Press Release
•
Sep 22, 2016
Enter your amazing video showcasing Archery Tag® in an exciting, creative, and fun way for a chance at $5,000 USD! Visit ArcheryTag.com/Video-Contest for contest rules and entry form.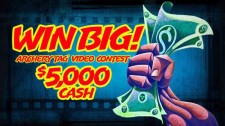 Ashley, Indiana USA, September 22, 2016 (Newswire.com) - We are looking for our next awesome Archery Tag® promo video! Take your best shot at winning $5,000 USD by submitting your incredible video that showcases our amazing combat sport in an exciting, creative, and fun way!
Contest will be open from September 21, 2016 - November 4, 2016. All video entries need to be received by November 4, 2016 NO LATER than 11:59PM EST and may be submitted in one of two ways: 1) Emailing contest@globalarchery.com a link through WeTransfer or Dropbox, 2) Mailing a media storage device, (i.e. Flash drive, SD card, or DVD) to our office at:
Global Archery Products, Inc.
101 Archery Way
Ashley, IN 46705
USA
On November 8, 2016 at 12PM (EST) we will launch the Competition through our website and social media pages. Use the hashtag #ArcheryTagVideo to search for your video. Make sure to tell your family and friends to LIKE and SHARE your video after it is posted; then tell them to KEEP SHARING it to increase your odds of exposure and LIKES! The video with the most organic views on December 30, 2016 at 12:00PM (EST) will become the winning entry! Visit our website for official rules and regulations.
Source: Global Archery Products, Inc.
Tags