Aragon Research Positions SalesHood in the 'Leader' Section of the Globe for Sales Coaching and Learning, 2020
Press Release
•
updated: Jul 10, 2020
The Globe for Sales Coaching and Learning, 2020 Evaluation Is Based on Completeness of Strategy and Performance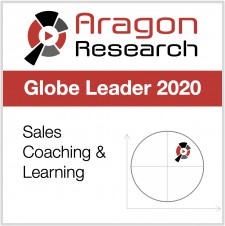 SAN FRANCISCO, July 9, 2020 (Newswire.com) - ​​​​​​​​SalesHood, the all-in-one Sales Enablement Platform, is positioned by Aragon Research, Inc. in the "Leader" section of the Globe for Sales Coaching and Learning, 2020. Aragon Research describes "Sales Coaching and Learning (SCL) as the newest and most focused way to onboard and continuously train sales representatives and sales managers. SCL platforms offer a robust and consistent way to deliver training that is vital to getting higher rates of achievement across the sales organization."
"We are pleased to position SalesHood as a Leader in The Aragon Research GlobeTM for Sales Coaching and Learning, 2020," said Jim Lundy, Founder, CEO and Lead Analyst at Aragon Research.
Hypergrowth companies are quickly adopting digital Sales Coaching and Learning (SCL) as an alternative to Learning Management Systems to accelerate readiness and boost sales productivity.
"In a period of remote work, the need for virtual sales coaching and learning to prepare our teams has never been greater," said Elay Cohen, CEO & Co-founder, SalesHood. "We believe our positioning in The Aragon Research GlobeTM for Sales Coaching and Learning, 2020 confirms the value our customers are realizing using SalesHood and validates the technology innovations we're delivering to the marketplace to enable remote teams - anytime, anywhere."
About SalesHood
SalesHood is the leading all-in-one Sales Enablement Platform used by hypergrowth companies to boost sales performance. The SalesHood Sales Enablement Platform is a B2B sales tool designed for remote teams and proven to reduce time to ramp, lift quota attainment and accelerate sales velocity. Successful hypergrowth companies like Demandbase, DocuSign, DOMO, Omada Health, Nuance, Sage, RingCentral​, Tanium​, Tealium, Trinet, UnitedWay and Yext use SalesHood to boost growth and impact revenue outcomes. For more information about SalesHood, visit us at https://saleshood.com/
About Aragon Research
Aragon Research is an independent research and advisory firm that provides business and IT executives with the actionable insights they need to navigate technology's ever-evolving impact on business. Headquartered in Morgan Hill, CA, Aragon Research works with executives at every major level of the business and across industries to give them the tools they need to make more informed technology and strategy decisions. Aragon delivers high-impact advisory, research, and consulting services, and has a proven team of veteran analysts. For more information, visit www.aragonresearch.com.
Disclaimer
Aragon Research does not endorse vendors, or their products or services that are referenced in its research publications, and does not advise users to select those vendors that are rated the highest. Aragon Research publications consist of the opinions of Aragon Research and Advisory Services organization and should not be construed as statements of fact. Aragon Research provides its research publications and the information contained in them "AS IS," without warranty of any kind.
Source: SalesHood