AQuity Named 2023 Best in KLAS for Real-Time Virtual Scribes and Medical Transcription Solutions
Press Release
•
Feb 8, 2023
Clinical document capture solutions ranked #1 for alleviating the administrative burdens that cause physician burnout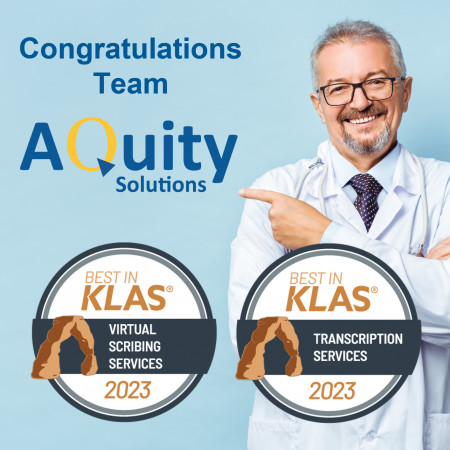 CARY, N.C., February 8, 2023 (Newswire.com) - AQuity Solutions has been recognized by KLAS Research as the 2023 Best in KLAS solutions provider in both the Real-Time Live Virtual Scribe and Transcription Solution categories. This marks the first year Virtual Scribes has been covered as a category by KLAS and the fifth consecutive year AQuity has earned Best in KLAS recognition for Transcription Solutions. KLAS rankings are considered the gold standard in the Health Information Management and Revenue Cycle Management industries for their accurate, honest, and impartial research analytics.
"The 2023 Best in KLAS report highlights the top-performing healthcare IT solutions as determined by extensive evaluations and conversations with thousands of healthcare providers. These distinguished winners have demonstrated exceptional dedication to improving and innovating the industry, and their efforts are recognized through their inclusion in this report. Congratulations to all the winning vendors for setting the bar for excellence in healthcare IT. KLAS continues to be committed to creating transparency and helping providers make informed decisions through our accurate, honest, and impartial reporting," said Adam Gale, KLAS CEO.
"Our team takes pride in delivering innovative solutions centered on clinicians and their workflows," shared Jason Kolinoski, AQuity's COO. "As labor-based services and technologies used in clinical documentation evolve, it's very gratifying to earn these Best in KLAS recognitions for the solutions we offer based on actual client feedback."
"We take KLAS rankings and feedback very seriously and put a high priority on how our performance is judged by our clients across all our solutions," added Kashyap Joshi, AQuity's CEO. "By reducing the documentation burden of providers, our clinical documentation capture solutions relieve burnout, improve patient throughput, and measurably increase RVUs. We are proud to lead the industry by keeping our clients at the center of everything we do."
About AQuity
Headquartered in Cary, North Carolina, AQuity provides solutions for 21 of the Top 25 and over half of the Top 250 Health Systems in the United States. AQuity employs over 7,500 documentation capture and medical coding professionals across the United States, India, Australia, Canada, and the U.K. With over 45 years of experience in service and technology solutions for healthcare, AQuity is recognized year after year by KLAS and Black Book as a leading vendor in multiple disciplines. AQuity is privately held. https://aquitysolutions.com/
Source: AQuity Solutions