AOMEI Backupper Official Website Migrated From Backup-utility.com to Ubackup.com
Press Release
•
updated: Sep 18, 2019
AOMEI Backupper's official website migrated to ubackup.com due to business development; now the new website is online. The old website automatically redirects to the new website.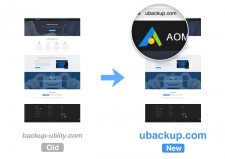 HONG KONG, September 18, 2019 (Newswire.com) - AOMEI is excited to announce that the official website of AOMEI Backupper, a backup software designed for data protection, migrated to ubackup.com. The official release date is Sept. 18, 2019.
AOMEI understands the complexity of website migration. In order to ensure that all data is continuously available and will not slow down the user experience, AOMEI has been preparing for the website migration for a year, reframing and simplifying some parts of the code. Through three months of testing and improvement, AOMEI believes that the access speed can be increased by at least 15%.
Why Migrate to ubackup.com?
Not only is the software for the Windows platform, but AOMEI is also on the way to provide cloud backup, mobile backup and other services while concentrating on the data security field. It requires a website with higher scalability to meet AOMEI's business development.
In the future, AOMEI products will not only be on PCs or servers, but Android, IOS, cloud services, and terminals, with data storage capabilities that will also benefit from AOMEI products.
"Our products have a good reputation. Users have also inquired about data backup services on other platforms. Indeed, we can see that the usage of cloud and mobile devices is increasing year by year. We believe it is necessary to enable AOMEI products to support more platforms. And our users will enjoy data insurance services on any platform," said Rao Han, Director of Development.
The URL Replacement
Now that AOMEI's new website is online, one can access it by going to ubackup.com. AOMEI will replace the URL in relevant places and will assist business partners to replace the URL.
The replacement method is keeping the rest of the path unchanged and just replacing "backup-utility" with "ubackup." For example, for the AOMEI Backupper Server product page, the old URL is https://www.backup-utility.com/server.html; the new URL is https://www.ubackup.com/server.html.
The old URL is not offline but will automatically jump to the new website and will be gradually deprecated after the URL replacement works completed.
If you have any questions, please contact support@aomeitech.com.
About AOMEI
With the mission "Always Keep Global Data Safer," AOMEI is devoted to providing "Data Insurance" services that mean to help customers avoid the risk of data loss or damage caused by hardware and software failures, human errors, malware intrusions and so on. AOMEI believes that a better insurance solution is not to compensate for the data loss or damage but to restore user's data completely, so as to ensure its availability at all times.
In the future, AOMEI will provide data insurance over diverse endpoints, mainly including computer, mobile, and cloud to provide a worry-free life and a safer IT environment.
For more information, please visit ubackup.com.
Source: AOMEI
Tags
Additional Links