PressRelease.com Helps Businesses Position Their Media and Marketing Strategies in Anticipation of a 2nd Wave of COVID-19
Markets are rallying at the prospect of a COVID-19 vaccine, causing many businesses to stay the course and remain open for business until closures are mandated by state government as the second wave is looming.
Press Release
-
updated: Jul 22, 2020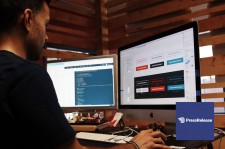 SARASOTA, Fla., July 22, 2020 (Newswire.com) - PressRelease.com is helping support businesses that plan to safely conduct business until government intervention. There are a number of challenges surrounding operating a business while maintaining public safety amid a pandemic. PressRelease.com is helping ease some of those challenges with simple, low-cost wire distribution that keeps businesses on track to meet their media and marketing objectives.
"Some businesses are choosing to stay the course, and a number of those businesses have no other choice in order to survive," says Erik Rohrmann, COO at PressRelease.com. "We're here to support those businesses and get them some visibility, whether they're announcing company news, new marketing initiatives, events, changes to normal business operations, you name it — anything that can drive more attention and potentially business to their doors in preparation of a second wave."
For businesses that continue to push forward, PressRelease.com's affordable press release distribution options are available to help push media and marketing initiatives and gain much-needed visibility and traction for any upcoming promotions or events. As the world awaits a vaccine, businesses must adapt to continue to survive in the ever-changing environment caused by the pandemic. 
Customers can connect with local, state, and national audiences through far-reaching press release distribution. Recent partnerships with Newswire and Accesswire have allowed PressRelease.com to extend even more value to businesses staying the course with wire distribution to networks including MarketWatch, Bloomberg, Yahoo! Finance, Morningstar, CBS, ABC, FOX and NBC. 
​PressRelease.com helps companies align their media and marketing strategies during the pandemic and in anticipation of a second wave through smart press release distribution. To learn more about how to create newfound value through press release content, visit PressRelease.com.
About PressRelease.com
PressRelease.com provides simple, affordable press release distribution services to public and private companies through the most comprehensive networks and 1.8M media contacts.
Contact Information:
PressRelease.com
​Media Relations
Office: 800-998-2927
Source: PressRelease.com
Share:
---
Categories: Business News
Tags: advertising, marketing, press release, press release distribution
---