Answer ALS is Proud to Announce the Release of New In-Depth Biological and Clinical Datasets to Aid ALS Research
Press Release
•
updated: May 13, 2020
A new set of rich Answer ALS project data is now available through the Answer ALS Data Portal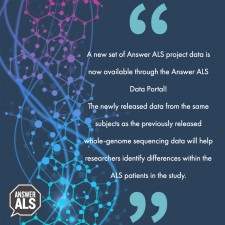 NEW ORLEANS, May 13, 2020 (Newswire.com) - A new set of Answer ALS project data is now available through the Answer ALS Data Portal. The release is a milestone not only for the program but for the field of ALS research in general. This is the first time that data from multiple biological assessments (so-called "multi-omics") have been combined with clinical data and been publicly released. The datasets, which include clinical, transcriptomic, and epigenomic sequence data, are all derived from individual Answer ALS study participants. The release also incorporates data portal updates to help with downstream analysis.
"We are really excited to release this first large data set as the core product of the Answer ALS program," said Dr. Jeffrey Rothstein, Director, Robert Packard Center for ALS Research at Johns Hopkins University, School of Medicine. "This first huge set of biological and clinical data sets the stage for researchers around the world to begin to tackle the challenge of understanding ALS subgroups, real human-relevant pathways and the tools to find individuals' disease-specific drugs." Rothstein continued, "Representing 100 of the1,000 ALS patient participants in the study, this data can be the foundation for companies and labs to earnestly tackle ALS biology — and it's only the first 10% of what will continuously be released as it's available."
The newly released epigenomic and transcriptomic data complement whole-genome sequencing and clinical data that was previously released for the same study participants. Together, the datasets will help researchers compare the genetic backgrounds between case and control populations. Having these comparisons is important to understand the differences in those with and without ALS and, notably, will also help researchers identify potential differences between sub-groups of ALS patients.
Ed Rapp, Answer ALS Advisory Board Chair and person living with ALS, said, "Any great breakthrough is like a game of dominoes. You have to get the first domino to fall and once you do, it leads you down a path to success." Rapp added, "Tipping the first domino was deploying exponential computing capabilities that allow large data storage, genetic sequencing in an hour, and deeper machine learning into the disease. That effort will then facilitate all other dominoes by the discovery of ALS subgroups and ultimately treatments or a cure."
To learn more about Answer ALS, please visit answerals.org. To search the data, please visit the Answer ALS Data Portal: data.answerals.org. The next release will include transcriptomic, epigenomic, and proteomic data produced from stem cell-derived motor neurons or "virtual biopsies" of individual study participants. This release is planned for Summer 2020.
Media Contact:
Clare Durrett
Phone: 504.450.4677
Email: Clare@AnswerALS.org
Source: Answer ALS