Answer ALS Announces Winners in the 'End ALS Challenge' Digital Competition
Press Release
•
updated: Jun 16, 2021
Administered by Kaggle, the End ALS Challenge asked participants to help identify solutions to the disease.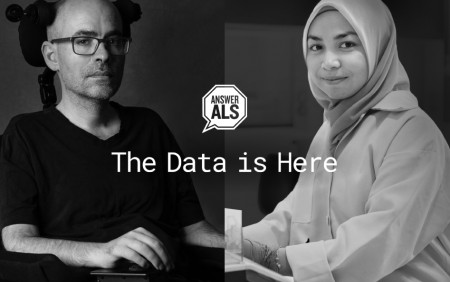 NEW ORLEANS, June 16, 2021 (Newswire.com) - Answer ALS is pleased to announce the winners of the End ALS Challenge. In collaboration with Roche Canada Artificial Intelligence Centre of Excellence (AI CoE), and EverythingALS, and with the additional support of ALS Society of Canada, Ontario Brain Institute (OBI) and NetraMark Corp., the challenge's goal was to surface insights through an open data competition that connects the global AI and neuroscience communities to better understand the overall biology of amyotrophic lateral sclerosis (ALS) and improve diagnosis and drug discovery for ALS patients.
The End ALS Challenge, administered by Kaggle, an online community of data scientists and machine learners, presented 150 rich datasets contributed from 1,000 Answer ALS patient research participants, collected through eight clinics and dozens of participating partners. Answer ALS is the largest and most comprehensive ALS research project in history, producing more combined ALS clinical and biological data than has ever been amassed, while openly sharing with the global research community.
Participation was robust for the first-ever End ALS Challenge. Forty-eight submissions were received from academic institutions, individual competitors, and industry startups representing a breadth of domain expertise. "Data practitioners from a wide variety of backgrounds participated in the End ALS Kaggle Challenge," noted Paul Mooney, Developer Advocate with Kaggle (a division of Google). "With public datasets from Answer ALS, and free cloud computing tools from Kaggle, anyone from anywhere can contribute towards research efforts to help end ALS."
The Challenge asked participants to model solutions to key research questions that were developed by neurologists, researchers, and patient communities. An interdisciplinary global expert panel reviewed the proposed solutions and a winner was chosen for each task. Participants then had the opportunity to join multi-stakeholder roundtables to share their work and potentially identify further solutions. Winners will be given the opportunity to present their data and solutions to industry and venture capital investors who have a proven track record in digital solution development, implementation and scale.
Winners of the End ALS Challenge were:
Muhammed Hasen Celik (PhD Student, University of California, Irvine) - Winner Task #1: Does ALS have one mechanism of action (one pathway) or is it caused by multiple independent or different mechanisms of action (multiple pathways)?
Bowhead Health AI Team- Winner Task #2: What are potential mechanisms of disease progression?
Ryan Cloke, PhD- Winner Task #3: What is the difference (genetic expression, transcriptomic, symptomatology) between people with ALS who progress faster versus those who develop it more slowly?
"I didn't know much about ALS prior to this challenge," noted task #3 winner Ryan Cloke. After researching the disease, Cloke was inspired by some viral tweets he read from ALS patient and advocate Brian Wallach about living with ALS. "It's such a terrible disease, and I feel like I should be able to do something to help since I work at a genomics company and have some experience in machine learning. I learned a lot in the process."
A devastating neurological disease, ALS affects approximately 300,000 people worldwide and is one of more than 7,000 identified rare diseases. People suffering from ALS lose their ability to walk, move, speak, and breathe over a period of just a few years. Biologically, it's a complex disease that has challenged scientists and neurologists for the past 200 years.
"Answer ALS was interested in engaging the Kaggle community to help increase our understanding of ALS. Using in-depth clinical and biological data collected from 150 of the 1,000 Answer ALS participants, the End ALS challenge competitors set to work to help us define mechanisms that instigate and drive disease progression," stated Emily Baxi, PhD, Answer ALS executive director and an End ALS Challenge panelist. "We are proud of the contributions made by the competitors and in particular our three winners. Not only have they helped raise awareness of this terrible disease, but they also made meaningful progress in applying AI and machine learning to a highly complex disease."
Please visit the Kaggle website for more information on the End ALS Challenge.
Source: Answer ALS Foundation
Tags