Announcing the Yummie Nation Network Podcast at the Food & Wine Classic in Aspen 2016
Press Release
-
Jun 22, 2016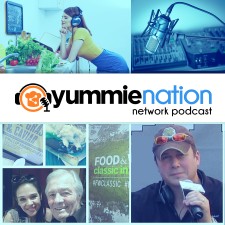 Aspen, CO, June 22, 2016 (Newswire.com) - ​​​​​​​​​Yummie Nation, the multi-faceted, tech enabled influencer-based media platform proudly announces the launch of The Yummie Nation Network (YNN) Podcast.  We can't think of a better place or way to kick off our all new YNN Podcast than at The Food & Wine Classic in Aspen! This past weekend, Yummie Nation produced its' inaugural show in the midst of all of the excitement at the Food & Wine Classic in Aspen, the most respected and longest running food events in the country. The YNN podcast launches today and brings its' audience the best in food media personalities starting with beloved legendary chef, Chef Jaques Pepin, and other notables such as, Chef Scott Conant, Chef Tyler Florence, and the brand new editor of Food and Wine, Nilou Motamed.
Yummie Nation Network's regular weekly podcasts will air every Thursday at 8pm central from its' home studio out of 1871 Chicago, one of the largest tech start-up incubators in the nation. The YNN podcast is hosted by veteran food radio personality, Dane Neal from WGN Radio, Chicago and Beth Peterson, World Food Champion & Master Chef Alum, with contributing  host Jenn Campus, YN Editor-in-Chief & veteran food writer. 
Each week the YNN podcast will feature topics and regular segments that food lovers will eat up! From celebrity chefs and lifestyle experts, to coverage of popular food related events around the country, to book reviews and food policy along with culinary trends and all things related to the business of food.  Not to mention, each week the YNN Podcast will highlight a food talent from the Yummie Nation influencer community.
Yummie Nation Network Podcast weekly segments to include: 
Nationally recognized Food and Lifestyle Experts
Every week YNN podcast will bring nationally known food and lifestyle experts into the studio to talk about exciting happenings or topics that are meaningful to foodies around the world. This is a place for fans to really get to know their favorite food and lifestyle celebrities as they dish about their lives and share details on their current and upcoming projects. Our roster and access to food and celebs has no bounds. This will be a popular segment as our audience gets to hear from all of their favorites every week.
The Big Bite Book Review with Jenn Campus, Editor in Chief at Yummie Nation
Jenn loves all things food and writing. She shares her passion for tasty literary treats by highlighting some of her favorite cook books and even some food fiction or non-fiction. In this regular segment Jenn inspires listeners to grab a yummie book and dig in!
The Yummie Nation Network Trending Topics
Anything and everything trending in food and lifestyle. Each week our audience gets insider information on trends and current event topics. Our hosts dig deep to share interviews and lively discussions with experts to learn and share about what's happening right now in the world of food and lifestyle. From the best food festivals to travel destinations, to news, to tech to "what's the next cronut?", Yummie Nation Network shares it with our inquisitive and passionate food loving audience around the nation.
The Yummie Nation Citizen of the Week
Each week this segment features one of our incredible Yummie Nation members. With huge self-built brands and giant followings of their own, these folks dominate on various social and online platforms in various areas of food and lifestyle. The Yummie Nation Network shares how our influencers got to where they are.  We have in depth conversations about their motivation, their exciting projects and how they've reached their success. It's a great segment showcasing successful food influencers who are all members of our Yummie Nation community. 
About Yummie Nation
​Reaching millions of unique users every month, Yummie Nation is a powerful new platform and content ecosystem uniting influencers, brands and everyday cooks through a common love of food. Dedicated to helping people cook and eat healthier meals at home, our holistic 360 degree solutions aim to address the challenging food landscape: consumers enjoy free recipes, meal plans and cooking tips from top food bloggers; influencers look to us to generate revenue and gain exposure; brands leverage our platform to reach their target audiences.​​ Yummie Nation brings exciting food content to consumers with great access to all that is happening in the food world. 
For more information about Yummie Nation and the Yummie Nation Network Podcast, go to https://yummienation.com/podcast
To schedule an interview with Yummie Nation Network Hosts contact press@yummienation.com
Source: Yummie Nation
Share:
---
Categories: Internet and Streaming Media, Marketing, Radio Programs
Tags: cooking, food, food celebrities, interviews, marketing, online advertising, podcast, radio, recipes
---