Announcing the New RDS-Web Access 11.10 General Availability
Press Release
•
updated: Jan 12, 2018
RDS-Tools is happily closing 2017, rich of improvements and technological advances. The latest releases of the best HMTL5 Remote Desktop solution and alternative to Citrix focused on optimizing and simplifying the users' experience. This 11.10 version is a major update, taking a new step forward a greater customization of the RDS-WebAccess experience to keep its customers satisfied.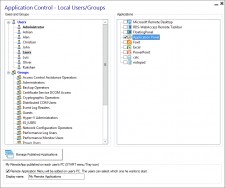 Prague, Czech Republic, January 12, 2018 (Newswire.com) - RDS-WebAccess 11.10 Provides Rich and Intuitive Solution for RDS Administrators and Remote Users
The new RDS-WebAccess11.10 Release is a MAJOR update. It fixes most known issues of the previous 10.50 Release, and goes even further into simplification and optimization of the Remote Desktop experience.
1. Hyper-Scalable Display Settings for Remote Applications
The new Application Panel settings tool offers more display options. This allows the user to publish its applications according to its favorite device format. It is now possible to adjust the number and organize the Floating Panel displayed applications, exactly like on the Web Application Portal, but within one single session, by assigning applications to one user or group. For instance, align six Apps in one column. Thus, the Administration can customize the Application Panel size to optimize and easily adapt it to the users' screen. It works with RDS-WebAccess generated client as well as MSTSC/RDP.
2. Addition of a Centralized Universal Printer Management Tool
RDS-WebAccess 11.10 introduces a new tile in the AdminTool: the "Printer Management" feature gathers all the required tools to install, uninstall, display and handle the Universal Printer options in one place. This will greatly facilitate the job of RDS Administrators, providing an easy way to anticipate and handle the Universal Printer's operations.
3. A BYOD friendly HTML5 Client
One RDS-Tools' objective is to make life easier for Remote Desktop users on mobile devices. In this purpose, the kernel of the RDS-WebAccess HTML5 client has been dramatically enhanced to deliver a better behavior on tablets and Smartphones. As a great example, the user can enjoy a very handy mini-mouse for an easier selection of buttons and windows. The keyboard was improved as well, and can now be automatically selected with a simple right-click and displayed on the chosen input field.
Download and try RDS-WebAccess 11.10 right now and enjoy 15 days of free trial!
To update any existing system, download and run the new Update Release.
It includes a wide range of features and benefits that are detailed on the web page.
Source: RDS-tools.com
Related Media
Tags
Additional Links