Announcing RDS-WebAccess, to Convert Any Device Into a Remote Desktop Solution
Press Release
•
updated: Sep 12, 2017
Organizations use public virtual networks centrally hosted on Windows Remote Desktop Services (RDS) or VDI to give a permanent access to internal resources to their employees wherever they are. They must be installed with the correct version on each device that requires access to the server. This is where "RDS-Web Access" enters the picture: universal clientless solution to access server resources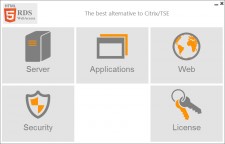 PARIS, France, September 12, 2017 (Newswire.com) - RDS-WebAccess Instantly deploys Windows apps as HTML5 desktop applications.
Native applications can only be installed on native devices while HTML5 apps can run on any device, including Smartphone and tablets. From this statement, RDS-Tools technical team has developed a powerful Remote Desktop solution: RDS-WebAccess.
RDS-WebAccess is a cost-effective and easy-to-use HTML5 Citrix alternative to access Windows applications from everywhere and from any device. It is a pure web solution: Once the software is installed on a PC or RDS server, all the user needs is a web browser to access his remote applications.
Employees can instantly connect to desktops and applications, from iPad, iPhone, Android devices, computers running Windows, Mac OS X, Linux, Chrome OS, and even from locked-down workstations – without installing Flash, Java or any other software on the end-user device.
RDS-WebAccess Provides a Full Remote Desktop Experience
The RDS-WebAccess web portal allows quick, easy and affordable application publishing. Any business person even without strong IT expertise can virtualize desktops and build a secure remote server for multiple users. The only requirement is an HTML5-enabled browser, which nowadays covers almost every web browser available.
How does it work?
The HTML5 Client launches all the apps within the browser window. After successful authentication of the user, the web portal displays the list of assigned apps per user. They can also be defined by group of users. Moreover, RDS-WebAccess connections are highly secure with SSL certificates.
Using apps with the RDS WebAccess HTML5 Client results in a rich rendering of graphics, augmented by a customizable and highly intuitive user interface.
RDS-WebAccess free trial is already available and provides a wide range of features and benefits:
Universal Printer: easily print from a remote location
Files sharing: from your Remote Desktop to the Server and vice-versa
Zero Client Software and plugins!
Pure HTML5 solution: compatible with any browser, on any device!
Bring-your-own-device (BYOD) friendly
Secure Web Portal
Customizable Web Portal: RDS-WebAccess client integrates with leading enterprise and home grown portals
The complete list of functionality can be found on the website along with the technical documentation.
RDS-WebAccess is the "must-have" tool administrators dream of for mission-critical business continuity: employees are able to access their personal workstation via a web browser - from any available end-point device, anywhere they are.
Instantly connect to Windows desktops and applications from your iPad, iPhone, Android devices, and from any computer running under Windows, Mac OS X, Linux, Chrome OS, and even from locked-down workstations.
By F.Mer, Marketing Manager at RDS-Tools
About RDS-Tools:
Since 1996, RDS-Tools has specialized in remote-access technology, widening its experience and expertise in deployments of all sizes – as large as 35,000 concurrent users. After investing nearly seven years of R&D developing our flagship products, we are extremely proud to offer our customers such cost-effective and easy-to-use technology that obviates server complexity and delivers a powerful "server-based solution" which runs on any Microsoft system. RDS-Tools provides 3 brand new technology choices which will greatly help you deploy your RDS/TSE servers: RDS WebAccess, RDS Knight, and Server Genius. If you have any questions, comments, suggestions or sales inquiries please send us an email at sales@rds-tools.com and we will be pleased to answer you.
Source: RDS-Tools
Related Media
Tags
Additional Links