Announcing RDP Defender, Security Freeware for Windows RDS Servers
TSplus is pleased to announce the worldwide availability of RDP Defender, a simple and powerful security freeware for your RDS/TSE/CITRIX servers. Your Windows server is constantly assailed by hackers, network scanners and brute force robots who attempt to steal your identification in order to access your personal data or take the control of your machine. TSplus is bringing you the best solution without any cost: RDP Defender protects your server and puts a definitive end to these attacks.
Press Release
-
May 11, 2016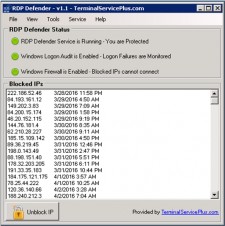 Paris, France, May 11, 2016 (Newswire.com) - For 10 years, TSplus has developed its solutions while insuring the highest level of security to its customers. This is why TSplus took the decision to invest and to develop RDP Defender, an amazing tool which prevents any risk of malicious connection to your server. TSplus is willing to share its expertise with the IT world by delivering this new excellent product as a freeware for the entire Windows community.
How does it work? As soon as your Windows server is available on Internet, robots will scan open ports and try to log in. Every minute, hundreds to thousands of combinations, using current logins and password dictionaries, are automatically tested on your server by external IPs.  This is both dangerous for your personal data and your resources, as this behavior impacts your CPU and Bandwidth consumption.
"RDP Defender, best security freeware for RDS/TSE/CITRIX servers."
RDP defender protects your RDS server or your PC efficiently by monitoring Windows failed login attempts and automatically blacklisting the offending IP addresses after several failures.
RDP Defender is a "must have" freeware security tool: very quick and easy to install, running  on your server instantly, adapted to your exact needs with customizable settings, compatible with any Windows RDS/TSE servers, RDP Defender is immediately available and this is completely free!
For more information please visit the web site : http://www.terminalserviceplus.com/rdp-defender.php
About TSplus : TSplus is a privately held company. Since 1996, TSplus is specialized in remote-access technology, continuing to expand its experience and expertise in deployments of all sizes. TSplus is the most cost-effective and easy-to-use alternative to Windows Terminal Server (TSE), Remote Desktop Service (RDS) and Citrix. With HTML5, TSplus provides the ultimate solution to web enable Windows applications inside the web browser. TSplus Web Portal is the flexible, scalable and reliable solution for Windows based Cloud Computing and SaaS.
For any questions, comments, suggestions or sales inquiries please send an e-mail to floriane.mer@terminalserviceplus.com (or to sales@rds-tools.com).
Source: TSplus
Share:
---
Categories: Computers and Software, Client/Server Computing
Tags: RDP Defender, RDP Firewall, RDP Freeware, RDS Defender, RDS Firewall, RDS Freeware, security freeware, TSplus
---