Announcing New RDS-WebAccess 11.20 Availability
Press Release
•
updated: Mar 1, 2018
RDS-Tools is happy to announce the general availability of its 11.20 release. This new version of the best alternative to Citrix is clearly in line with the company objective for 2018: to become the first provider of powerful Remote Desktop applications and tools. Stay up-to-date and read about the great enhancements that are awaiting RDS-Tools' customers.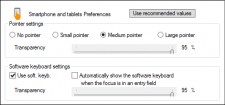 PRAGUE, March 1, 2018 (Newswire.com) - The kernel of the HTML5 client has again been fully reviewed in order to provide the best service even from smartphones and tablets. The multiple enhancements include many new customization options that can be centrally managed with the AdminTool by clicking on the HTML5 client tile. Within the various display settings, the Administrator will notice the possibility to change the size of the pointer, the level of transparency, as well as the type of keyboard.
In addition, the iFrames have been updated to improve scrolling and to insert a new "zoom-in/zoom-out" button on the top menu when used with mobile devices. On the small screen of a Smartphone, it can be difficult to read or to select a commercial application form. In a click the user is now able to zoom the display, to work and to use a Windows application.
These are additional ways to adapt the use of RDS-WebAccess to mobile devices format and make it intuitive for the user to navigate inside his application.
The 11.20 release is meant to be the most important of 2018; further developments will be based on these crucial changes. We highly recommend downloading this update.
Download and try RDS-WebAccess 11.20 right now and enjoy 15 days of free trial!
Source: RDS-Tools
Tags
Additional Links