Announcing Laser Dentistry and Laser Surgery Sessions Speakers - ALSC Inaugural Symposium, April 6-8 in Orlando
Press Release
-
updated: Dec 29, 2017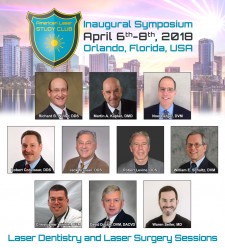 Orlando, FL, December 29, 2017 (Newswire.com) - The ALSC Inaugural Symposium hosts comprehensive laser dentistry / laser surgery programs, ideal for new and experienced laser physicians, dentists, and veterinarians. Join us for this rare opportunity to learn from laser surgery pioneers and leading laser surgeons and earn up to 14 CDE credits. Coming in at a fraction of cost of other laser education programs.
ALSC Inaugural Symposium, April 6–8, 2018, in Orlando, Florida
Below are just SOME of the presentations scheduled:
Warren Seiler, MD, DABLS, Executive Director of Education, Development & Accreditation at the ABLS - "​Review of Laser Wavelengths Utilized in Modern Day Cosmetic Surgery Practice" and "American Board of Laser Surgery Certification Process"
Richard B. Winter DDS, DABLS - "​LightScalpel 10,600 nm Laser Use in and Advanced Reconstructive Implant Dental Practice"
Martin A. Kaplan,DMD, DABLS - "Review of Laser Techniques for Biopsy of Infant and Pediatric Mucoceles and Fibromas​"
Noel Berger, DVM, DABLS - "Selected Veterinary Oral Surgical Procedures" and "Selected Veterinary Laser Surgical Procedures of the Skin"
Robert Convissar, DDS, FAGD - "Periodontitis and Periimplantitis – State of the Art Laser-Assisted Tissue Regeneration 2018" and "Ethical and Legal Ramifications of Using Diode Lasers for Closed Periodontal Pocket Therapy"
Jack Krauser, DDS - "The 10,600 nm SuperPulse CO2 Laser May Alleviate the Late Implant Failure Linked to Tissue Tension"
Robert Levine, DDS - "The State of the Art of Dental Lasers"
William E. Schultz, DVM - "Veterinary Soft Palate Laser Resection, and Laser Repair of Nares, Lip and Palate Deformity"
Christopher J. Winkler, DVM, VMLSO, DABLS - "CO2 Surgical Laser in Veterinary Procedures:  A Case Review"
David D. Duclos, DVM, DACVD - "Ablation of Various Dermatologic Lesions in the Dog and Cat" and "Excision of Follicular Tumors, Nail Carcinoma in the Dog and Eyelid Melanoma in the Horse Using CO2 Laser Excisional Techniques"
This is not the complete list of presenters; this is only a preview.
CDE credits will be provided through partnership with ADA CERP CDE Providers
The American Laser Study Club (ALSC) promotes Science-Based Laser Surgery, Dentistry and Safety Education. The ALSC fills the void in current Laser Surgery and Laser Dentistry education (i.e., the physics of laser tissue interaction, such as absorption, scattering, ablation, coagulation and hemostasis, soft and hard tissue ablation, laser safety, etc.) and helps Physicians, Dentists, Veterinarians and Practice Staff Members to excel at efficient and safe application of laser energy in everyday practice. The ALSC also provides help for those preparing for the Certification Exam with The American Board of Laser Surgery (est. 1984).
ALSC Inaugural Symposium, April 6–8, 2018, in Orlando, Florida
*Information, terms and conditions in this communication are subject to change without prior notice.​
Source: American Laser Study Club
Share:
---
Categories: Dentistry, Veterinary, Cosmetic and Reconstructive Surgery
Tags: Dentistry, Dermatology, Laser Dentistry, Laser Surgery, Oral Surgery, Skin Surgery, Veterinary, Veterinary Surgery
---