Angelina's Palace Revamps Product Lines to Stress Company's Core Values
Press Release
•
Aug 30, 2016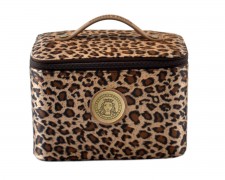 City of Industry, California, August 30, 2016 (Newswire.com) - ​​Angelina's Palace (AP) has taken a series of moves to make its products and services better represent the company's core values.
The California-based retailer and wholesaler of jewelry and makeup organizers has extended its collection of products with better designed details and functions, while revamped its website and social media outlets to better serve its customers.
As its mission statement goes, AP is devoted to providing organizers and handbags to "make life easier and more efficient." AP believes that in modern society, as women are busier than anytime in history, how to make women's daily organization easier and simpler has become more important and rewarding than ever. With professional designers in multiple cities, AP also ensures customer-oriented designs and intricate details that improve women's lifestyle.
First, after comprehensive market study and investment in innovation and research, AP has redesigned products that meet almost all needs of modern organization.
AP widens its product line of jewelry organizers to three main categories: jewelry boxes, jewelry hangers and small-sized jewelry rolls. AP market survey and research show that women need different jewelry organizers that fit different occasions. For home organizing, AP has jewelry hangers that hang anywhere (in closets or behind doors) to save space. For desk organizing or occasional travels, AP has unveiled the jewelry boxes that can be stored in drawers or on desks. For easy take-outs, the jewelry rolls are available in two sizes.
Second, as a high-end, customer-oriented brand, AP has designed its products to the ultimate, with intricate details, powerful functions and fashionable looks. AP's classic IRIS Compact Beauty Box is a good example of such designs. It has a removable interior organizer that offers easy carry and cleaning. The collection has 35 patterns and colors to choose from, all made from high quality leather. AP customers are most impressed by its functions, as it has eight brush holders, eight inside pockets, one zippered pocket on lid, two side compartments and two elastic holders.
"These pockets and holders perfectly meet all my demands even though I have so many makeup items!" Sally Hansen, a long time customer of AP wrote on her social media.
Apart from upgrading its product lines to impact people's lifestyle, the brand also moves to boost its website and social media presence to better convey its messages and serve its customers.
Its new website highlights the new "AP Lifestyle" sector, which is like a virtual fitting room for those who want to see how AP products will change their home, their organization, their travels and their daily life. Meanwhile, AP added a "Blog" section to the website, which is a collection of customer-written stories of how AP products change their life, or recommendations on the best products to find.
AP's social media outlets have also become where customers could find the perfect products to make life easier and better. The company has hired experienced graphic artists to present customers with vivid images, gifs and videos so that they can better understand AP products and the concepts behind them.
Check out AP's website http://www.angelinaspalace.com or subscribe and get your lifestyle upgraded!
Source: AP Lifestyle & Accessories Inc.
Related Media
Additional Links