Angelina's Palace Offers 20% Discount on All Organizers of 4-Square Patterns
Press Release
•
Jun 16, 2016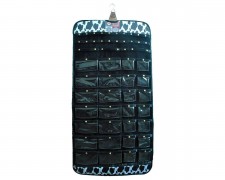 City of Industry, California, June 16, 2016 (Newswire.com) - ​As part of their efforts to deliver customer centric services, Angelina's Palace (AP) has introduced a 20% discount on all four-square patterned organizers.
The discount is offered on nine products, including ANNECY and TENBY Jewlery hangers, GOREDE Jewelry Case, IRIS Beauty Case and its KEISS Luxury Tote. The discount is effective immediately and will be offered for a limited time.
Headquartered in the City of Industry, California, Angelina's Palace is an established brand of jewelry, cosmetic, purse and accessories organizers. The discount is kicked off in order to give AP customers a taste of its signiture organizers at relatively low prices, and hopefully promote the brand even further to those interested in getting their home and purse organized.
The four-square pattern is one of the classic in AP's design history. As its name indicates, the pattern is composed of four squares, each of which features a simple but exotic geometrical circle and contrasted colors, adding a touch of elegance and mystery to the bags and hangers. This time the four-square pattern is chosen among dozens of patented patterns, as it's one of the best sellers, both wholesale and retail.
The IRIS Beauty Case is one of the most classic products of AP. It's good for organizing makeup items, foundations, eye shadows, lipsticks, bottles, you name it, on the desk or for week-long travels. Using special materials, the beauty case is water proof and very easy to clean up. As in most other products, it's equipped with superior wax leather zipper pullers and coated metal.
For customers shopping for a jewelry hanger, AP has the TENBY Homie Hanger ready for the shelf. As its name indicates, the jewelry hanger is by appearance an easy-to-carry hook that hangs in the closet like a clothes hanger (in fact it can be placed anywhere, on walls, behind doors, etc.). Its pockets are perfect for earrings, rings, necklaces – any jewelry item. All the pouches are see-through, making it easy to organize and pick the right one.
Also on the sales list is the ANNECY Hanger, which has all the pouches removable with snaps. The benefits are apparent – one can take individual jewelry items and put them in a handbag while going out.
The luxury tote, which comes in three sizes, is an organizer and handbag in one. AP tries to design its totes in a way that best store and organize jewelries and makeup items, and that's what sets its tote bags apart from others.
As a high-end organizer producer, a discount is not common for AP. If you're a fan of the brand or happen to be hunting for an organizer, don't hesitate. Check out the sales page at http://www.angelinaspalace.com/search?q=4+square
Source: Angelina's Palace
Related Media
Additional Links