Andrews Federal Credit Union Awarded 2022 U.S. Army Distinguished Credit Union Service Award
Press Release
•
Sep 13, 2023
Credit Union Honored for Service and Support of Military at USAG Benelux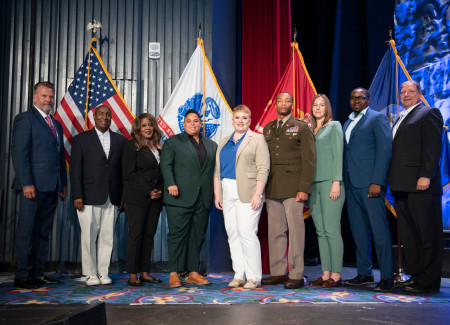 SUITLAND, Md., September 13, 2023 (Newswire.com) - Andrews Federal Credit Union was recently awarded the 2022 U.S. Department of the Army "Distinguished Credit Union of the Year" designation for its USAG Benelux location. This is the second time Andrews Federal has been honored as a Distinguished Credit Union by the Department of the Army.
Andrews Federal's Board of Directors, Board Emeritus, senior leadership and Benelux leadership teams were honored with this recognition during the Defense Credit Union Council's 60th Annual Conference in Colorado Springs, Colorado.
According to Andrews Federal President and CEO Ken Orgeron, this recognition underscores Andrews Federal's strong commitment to serving its members. "Andrews Federal has faithfully served our military for 75 years," Orgeron said. "We are honored by this Distinguished Credit Union of the Year award and by the trust our military leaders and members have in our credit union to serve them and to meet their financial needs."
Andrews Federal continues to support the military community at USAG Benelux by providing financial products and services that make it easier for military service members to achieve their goals. The credit union has developed offerings that support military service members, including a military-focused checking account, cost-effective international money transfer options, low-cost loan alternatives and a financial wellness program. Andrews Federal also sponsored morale events throughout the year, including the Chièvres Air Fest, which was attended by more than 10,000 community members.
Andrews Federal was recommended for the award by Col. Lindsay Matthews, Commander, USAG Benelux. "Andrews Federal Credit Union is an integral, valued partner of USAG Benelux. I can clearly see the value created by the credit union's partnerships with the garrison and the military servicemembers stationed here," Matthews said. "From young servicemembers away from home for the first time to military spouses managing family finances, the Andrews Federal staff provides guidance that makes it easier for military families to manage their money while handling the challenges and opportunities of military life."
About Andrews Federal Credit Union
Founded in 1948, Andrews Federal Credit Union has grown to serve more than 130,000 members in the District of Columbia, Maryland, Virginia, New Jersey, and military installations in central Germany, Belgium, and the Netherlands. For more information about Andrews Federal, visit andrewsfcu.org.
###
Source: Andrews Federal Credit Union