Andrena Partners with The Dime to Launch High-Speed Wireless Internet Service in Williamsburg, Brooklyn
Press Release
•
updated: Oct 27, 2020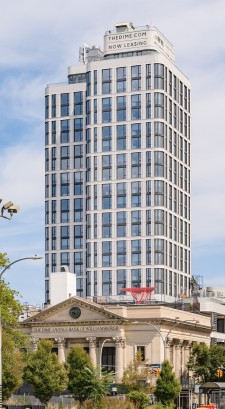 NEW YORK, October 27, 2020 (Newswire.com) - Andrena, a startup that provides high-speed residential and commercial internet, is excited to announce the launch of their wireless internet service in Brooklyn, NY. The need for reliable, high-speed wireless internet has never been greater as the global COVID-19 pandemic continues to force many Brooklyn residents to work and learn remotely. To launch its internet service for residents in Brooklyn, Andrena has partnered with The Dime, a 23-story, luxury mixed-use building co-developed by Charney Companies and Tavros Holdings off the landmarked 1908 Dime Savings Bank in Williamsburg.
Because Andrena's true wireless and on-demand technology is installed and available throughout The Dime, residents don't need any in-home hardware or to schedule an installation appointment with a technician. Residents of The Dime can create their own personal and secure Wi-Fi network and connect to the internet within minutes of moving in.
"Setting up Andrena internet for my unit took no more than a few minutes and was all handled effortlessly through their online dashboard," said Ralfi Salhon, a resident at The Dime. "I'm enjoying a fast and consistent connection for a low cost, without having a bulky router in my unit."
Customers can control their devices and subscription through Andrena's online dashboard, with 24/7 local customer support. Using a proprietary router that automatically connects to Andrena's network when powered on, installation for Williamsburg residents outside of The Dime takes only a matter of minutes and is conducted in person by an Andrena employee (in protective gear).
Andrena Internet offers two packages for residents at The Dime: $15 per month for up to 100 mbps or $25 per month for up to 200 mbps of wireless internet. The first month of internet is free and contracts are on a month-to-month basis.
"Andrena is delighted to bring our redefined approach to how residents connect to the Internet to The Dime," says Neil Chatterjee, Co-Founder & CEO of Andrena. "Our service is instant, giving residents a pleasant and convenient first impression as they move into this great property. We are excited that our service launch in Brooklyn at the landmarked Dime residences, and we're eager to bring Andrena to the rest of the borough."
"Our goal at The Dime has always been to offer residents the best of the best in designing both our physical spaces and amenities program, and our partnership with Andrena is a reflection of that," said Justin Pelsinger, Chief Operating Officer, Charney Companies. "Given the plugged-in nature of today's working and living environment, high-speed internet access is more important than ever before. We're confident that we're providing top-tier service, and we're proud to work with Andrena at the building."
To check whether Andrena is available at your address, simply visit their website at www.andrena.com and conduct an availability check. If you're interested in Andrena Internet coming to your building, you can contact Andrena's sales team at www.andrena.com/property.
About Andrena
Andrena provides high-speed internet for a fraction of the cost. With Andrena, the first month of internet is free and contracts are on a month-to-month basis. Founded in Princeton, NJ, Andrena operates throughout Princeton, Hoboken, Newark, and Harrison, New Jersey and in Brooklyn, New York. Andrena is backed by leading Silicon Valley and New York venture capital funds. To check whether Andrena is available at your address, visit their website at www.andrena.com. Potential customers also can contact Andrena at 256-907-8690 or email support@andrena.com.
About The Dime
The Dime is a contemporary, 23-story terra-cotta and glass tower architecturally intertwined with the landmarked 1908 Dime Savings Bank. Jointly developed by Charney Companies and Tavros Holdings, and designed by Fogarty Finger, The Dime offers 177 extraordinary apartments with an abundance of lifestyle amenities, rooted into the creative and cultural fabric of one of New York City's most vibrant neighborhoods. At the base of the structure, adjoining the historic bank building, is a five-story podium that accommodates office and retail space. For more information, visit www.thedime.com.
Source: Andrena