Andrena Partners With Hudson Valley Property Group to Bring Free High-Speed Internet to Residents in Lincoln Park Towers
Press Release
•
Nov 5, 2021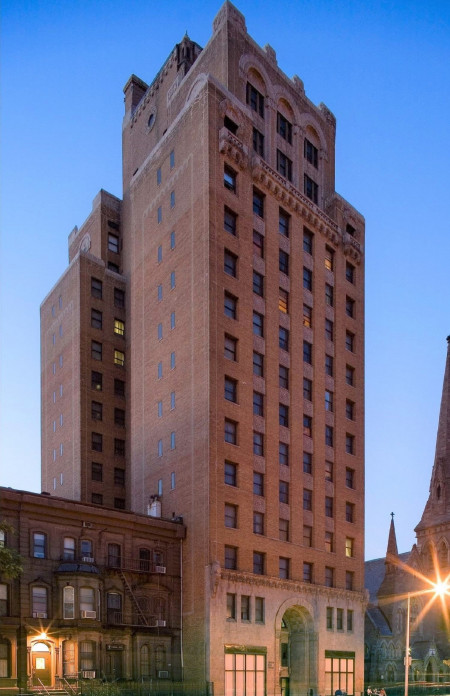 NEWARK, N.J., November 5, 2021 (Newswire.com) - Andrena, a startup that provides high-speed residential and commercial internet, is excited to announce their partnership with Hudson Valley Property Group. Through this strategic partnership, all residents of Lincoln Park Towers, a 17-story building consisting of 80 units of affordable senior housing, will receive free high-speed wireless internet service courtesy of Hudson Valley Property Group.
Because Andrena's wireless technology is installed and available throughout Lincoln Park Towers, residents do not need any in-home hardware or to schedule an installation appointment with a technician. Residents in Lincoln Park Towers can instantly connect to the internet after signing up for service on Andrena's website and creating their own personal and secure Wi-Fi network name and password.
"It's a fantastic service, and an amazing idea," said Christopher Pollitt, a resident in Lincoln Park Towers. "Andrena Internet has been great. My neighbors and I all love it."
Andrena Internet is currently servicing thousands of residents in New Jersey, Brooklyn, Queens, and Yonkers and is rapidly expanding across the Greater New York City area.
"We are very proud to partner with Hudson Valley Property Group and bring our internet service to all of their residents in Lincoln Park Towers," says Neil Chatterjee, Co-Founder & CEO of Andrena. "In this day and age, Internet service is an essential service that everyone deserves access to and no one should be priced out of a reliable high-speed internet connection. Hudson Valley is a leader on this front, and it's been an honor to help them achieve this vision for their residents."
HVPG is funding the cost of installation and ongoing fees related to internet services throughout the property. It is the second of four Wi-Fi installations expected to be completed this year across HVPG's portfolio of affordable housing.
"HVPG is excited to sponsor Andrena Internet at Lincoln Park Towers and bring their model of hassle-free internet to our residents," said Andrew Cavaluzzi, Partner and Co-founder of Hudson Valley Property Group. "Providing free, reliable, high-speed internet supports education, employment opportunities, and access to other valuable programming that uplifts our resident communities."
Anyone interested in bringing Andrena Internet to their building can contact Andrena through the form on their website: www.andrena.com/property
About Andrena
Andrena provides affordable, high-speed internet to thousands of residents across the Greater New York City area. Andrena is backed by leading Silicon Valley and New York venture capital funds and is rapidly expanding across the East Coast. To check whether Andrena is available at your address, visit their website at www.andrena.com. Interested customers or real estate owners can contact Andrena at 256-907-8690 or email support@andrena.com.
About Hudson Valley Property Group
Hudson Valley Property Group (HVPG) preserves and elevates the quality of affordable housing in the United States. HVPG acquires existing affordable, multifamily properties and strategically invests capital to improve the physical, financial, and social vitality of each home. With improved operations and enhanced service offerings, HVPG properties deliver a better standard of living for its residents and stable investment assets. To date, HVPG has preserved over 8,000 units across more than 40 properties, serving more than 15,000 residents. For more information, visit: https://hudsonvalleypropertygroup.com/.
Source: Andrena
Tags