Anchor Advisory Inc. Announces New Page on IT Consulting for San Francisco Businesses
Anchor Advisory is a best-in-class IT (Information Technology) consulting firm in San Francisco. As part of its new website, the company is announcing a page on IT consulting.
Press Release
-
updated: Aug 28, 2019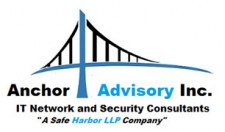 SAN FRANCISCO, August 28, 2019 (Newswire.com) - Anchor Advisory, a best-in-class IT consulting firm in San Francisco, California, at https://www.anchoradvisoryinc.com/, is proud to announce a new informational page on its newly launched website. The page focuses on IT consulting issues and helps San Francisco businesspeople educate themselves on the importance of Information Technology (IT) issues, including cybersecurity. 
"A consultant is just another word for an expert, and an expert is that go-to person that a business goes to to avoid troubles," explained George Fu, technical director at the firm. "Our new website helps laypeople understand the issues of Information Technology in clear language, and we're very proud of the informational page on IT consulting services for San Francisco businesses."
Persons who would like to visit the new page can go to https://www.anchoradvisoryinc.com/it-consulting/. There, they can read about how the IT industry is changing and how forward-looking San Francisco businesses are increasingly outsourcing their IT service needs. The page explains that building a strong IT infrastructure is crucial for any successful and forward-thinking business here in San Francisco, the Bay Area, or throughout California. Anchor Advisory helps Bay Area businesses to achieve their IT goals and ensure smooth operations for their businesses.
The IT consulting team takes a proactive approach to ensure reduced downtime, end-to-end management and maintenance of networks. With dedicated and regular technology planning sessions, the experts at Anchor Advisory have it all. These IT consultants provide best-in-class in-house engineering and support workforce across the country for business IT needs, whether it's remote or on-site. The skilled team of engineers is capable of handling anything thrown at them with timely delivery and guaranteed problem-solving. Another page that's worth checking out (and is new) is at https://www.anchoradvisoryinc.com/network-infrastructure/. That page focuses on "network infrastructure," which is the way that any business can and should harmonize its computers, phones, tablets, and other connected devices to work securely and effectively.
ABOUT ANCHOR ADVISORY
Anchor Advisory is a best-in-class San Francisco IT consulting and information technology firm. The company's IT experts focus on helping Bay Area businesses manage their IT needs through its managed IT services and cybersecurity consulting and IT security services, including computer security, cyber risk assessment, and compliance readiness. For more specialized services, consultants offer cyber risk, SOC, system and organizational control as well as FISMA/FedRamp and, of course, GDPR compliance. If a business is in San Francisco or elsewhere in the Bay Area, please give the IT consulting firm a call for a free estimate and analysis.
Media Relations
Anchor Advisory
Web. https://www.anchoradvisoryinc.com/contact-us/ 
Source: Anchor Advisory Inc.
Share:
---
Categories: Business Security
Tags: IT consulting, IT consulting services, security
---