Amsterdam Coffee Festival 2018: Discover the Science and Art of Coffee With Connoisseurs
Press Release
•
updated: Oct 12, 2017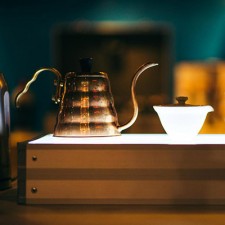 LITTLE HOUGHTON, England, October 12, 2017 (Newswire.com) - Europe's coffee scene is already bubbling for the next Amsterdam Coffee Festival. This event, to be held on 9 to 11 March 2018 at Westergasfabriek, will celebrate the vibrant speciality coffee landscape and the multiple sub-cultures around it. This is an unmissable event for ardent coffee lovers, urban foodies and key industry professionals. Tickets are already on sale. Scyphus, as a Branded Coffee Cups Company, is always all eyes and ears on development in the coffee scene across Europe. This year too, Leslie Carr and the entire Scyphus team is keeping an eye on the excitements generated. The business of manufacturing Branded Coffee Cups depends entirely on the growth in the Coffee Business and it's absolutely essential for Scyphus to be in the know of coffee and related festivals.
Coffee is one of the most appreciated beverages in the world. As of August 2017, global coffee exports amounted to 9.87 million bags. As coffee consumption is soaring, consumers, namely Millennials, are more ready than previous generations to experiment with their cups of coffee. This brewed drink has transcended beyond a mere cup of caffeine and all the different aspects and flavours are being meticulously valued. Enjoying a cup of coffee is today an ultimate sensory experience, a powerful blend of science and art.
The best coffee mixologists and baristas are invited for a showdown
The Amsterdam Coffee Festival 2018 is forecast to be the ultimate barista skill test. The Coffee Mixologists competition, to be held for the second time, will call the best baristas and mixologists to fuse creativity, personality and professionalism with an immense attention to details to impress the jury with their most creative coffee. The competition will extend itself over three consecutive days, that is, from Friday 9 to Sunday 11 March 2018.
Teams of two, that is, one mixologist and one barista, are invited to submit a one to two-minute video of their coffee cocktail creation before February 2018. Once a panel of experts will view the videos, the top 16 teams will be announced and they will be invited to participate in the Coffee Mixologists 2018 competition.
The competition will be fragmented into four rounds. In the first round, the competing teams will have to present their Signature Drink live to the panel of judges. The scores will be based on creativity, personality, recipe creation and technical ability.
From here, the selected teams will move on to the Quarter-finals. In this round, the teams will be given secret ingredients that they will have to use to create a coffee-based cocktail with unique flavours. The four teams scoring the highest marks will compete in the Semi-finals where they will, once again, have to come up with an innovative cocktail with the secret ingredients given for this round.
The final will see the two best teams competing head-to-head, having to creatively make the most of a fresh set of secret ingredients. Their responsiveness will also be a key factor determining their scores. The Coffee Mixologists Champions will be awarded €1,000 cash as well as a trip to London during the London Coffee Festival that will take place in April 2018.
Learning the techniques of coffee and food pairing
Just like food, coffee may be crafted to have unique flavours. Players in the food and drinks industry will have an opportunity to stay updated by learning the key skills and strategies into coffee and food pairing to impress caffeine-addicted patrons and demarcate their business. Indeed, coffee and food pairing is a relatively new trend whereby cutting-edge chefs, as well as coffee shop owners, are relentlessly experimenting to present unique menus to keep clients on the hook.
With coffee and food pairing skills, the myriad variety of flavours of the coffee is celebrated. The right balance can open the way to a creative range of seamless tangy experiences for clients who are becoming more explorative with their food and drinks choices. A variety of topics, such as choosing the best coffees with food and vice-versa, learning to pair food and coffee by region, by roast profile or by food type, will be covered in depth. Making coffee smoother or richer, offering a robust mouthfeel, making delicious coffee with sparkling water or nitrogen, or serving it with cheese are so many novel topics that players in the industry need to know.
Guest speakers from the industry's most inspirational businesses will furthermore share their experiences with participants. Learning how to pair coffee and food and deploying ingenious and original menus will be a good strategy for businesses to stay ahead of the curve and diversify. Today, it is not awkward to replace wine by coffee at the dinner table to bring out all the best flavours in each ingredient.
Coffee at the centre of innovative networking and technological styles
Coffee-tech engineering is definitely setting new standards in the market. High-tech coffee machinery is not just alluring to die-hard aficionados but has become vital for businesses wishing to focus on quality end products. Undeniably, coffee is no more just a cup of caffeine. It is appreciated as a high-end product and equipment such as grinders, for instance, cannot be considered lightly; an unevenly ground coffee produces bitter or sour results. Perfect machines can offer consistency and avoid spoiling those increasingly expensive coffee beans. However, they will not be replacing talented baristas so soon.
To stay up-to-date with the latest technological innovations in the coffee market, the Amsterdam Coffee Festival 2018 will equally represent an opportunity for the great minds in the industry to talk business in a relaxed atmosphere, and get to see, touch and try the most advanced technology 'toys' on the market. Sanremo, Hario, La Marzocco are only a few names that are invited to showcase their chef-d'oeuvre. Interested parties will be able to try before buying as well as meet the designers themselves.
In the same vein, apart from the products, the finest coffee on the market will also be in the limelight. Batavia, Single Estate, Keen, Boot and Stooker as well as other top-notch roasters will be presenting their single origin coffee and blends. If certain beans are of reasonable prices, others feature in exorbitant price ranges due to their unrivalled method of preparation. Their uniqueness does make them the most prized. Participants at the Festival will have the exquisite chance to taste and buy the best of the best.
Source: Scyphus, UK