Amphibious Medics Deploys Dictum Health's Telemedicine Platform as Part of Its Medical and Wellness Program
Press Release
-
updated: Feb 25, 2020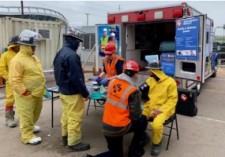 OAKLAND, Calif., February 25, 2020 (Newswire.com) - ​​Dictum Health – innovators in telehealth's Virtual Exam Room (VER) technology that connects the medical team to the point of care – announced that Amphibious Medics is using its telemedicine platform and VER-Medic mobile telemedicine kit to provide advanced medical services and wellness monitoring at its clients' job sites nationwide.
Amphibious Medics, the largest nationwide network of construction, industrial, event, and set medics, provides on-site medical personnel at its clients' job sites to provide local occupational medical services for the on-site workers. Occasionally, the personnel needs to connect live with a remote physician at Amphibious Medics' central location for additional services and coordination.
The VER-Medic mobile telemedicine kit, with its FDA Class 2 cleared medical tablet, enables the medical personnel to connect with the remote physician via a live video engagement and conduct a fully immersive patient exam – including live presentation of BP, HR, SPO2, temp, glucometer, ECG, and spirometry readings.
"The Dictum Health platform and VER Medic solution bring exactly the kind of tip-of-the-spear, next-level service our clients expect us to deliver to their work sites. The more we can do to keep the employees healthy and on the job site, the more it helps the employees and our clients' businesses," said Terence Curran, Chief Operations Officer at Amphibious Medics. 
The Amphibious Medics personnel and the remote provider connect via Dictum Health's secure cloud-hosted telemedicine application, CareCentral, which documents and tracks all encounter details for post-incident review and reporting. CareCentral provides a dashboard for care team members to review clinical data collected on a per-employee basis.
"It is exciting to see our solutions bring advanced, high-quality medical care to remote locations at the moment it is needed. This is exactly why we developed our VER-Medic mobile telemedicine solution," said Mory Ejabat, Founder and CEO of Dictum Health.
About Amphibious Medics 
Amphibious Medics provides one-of-a-kind, nationwide occupational medical services, in addition to a full spectrum of ancillary services including health and wellness services, as well as respiratory fit testing, audiometric fit testing, and a whole host of EHS training and support. These services are offered from full-time, on-site clinics to roving mobile clinics and even on-demand services. For more, please visit www.AmphibiousMedics.com, or contact Ian Foley, Director of Business Development, at ian@amphibiousmedics.com.
About Dictum Health 
Experts in mobile, cloud and clinical sciences, Dictum Health is transforming the way telehealth is delivered by leveraging innovation and quality to provide the Next Evolution in the Continuum of Care. Dictum Health's Virtual Exam Room (VER) telehealth technology provides immediate access to clinical care through a virtual exam, where clinicians remotely connect to patients using video conferencing and simultaneous viewing of vital signs, cardiopulmonary data, and medical images for immediate assessment and clinical decisions. Our solutions give physicians the means to treat, consult, monitor and manage even their most at-risk patients from virtually anytime, anywhere. For more information, visit www.dictumhealth.com.
Source: Dictum Health
Share:
---
Categories: Healthcare and Medical News
Tags: Amphibious Medics, construction, Dictum Health, industrial, job site, occupational medical services, on-site medical, remote medical, telehealth, telemedicine, VER-Medic, Virtual Exam Room
---