American Youth Symphony Names New Music Director and Resident Conductor
Press Release
•
May 25, 2016
Following an extensive, year-long search, AYS has appointed Maestro Carlos Izcaray as Music Director and Maestro Juan Felipe Molano as Resident Conductor, both beginning in the 2016/17 Season.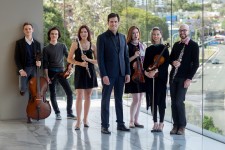 Los Angeles, CA, May 25, 2016 (Newswire.com) - The American Youth Symphony is thrilled to announce the appointment of Maestro Carlos Izcaray as Music Director; only the third conductor to hold that title in the organization's distinguished 52-year history.
Maestro Izcaray, Music Director of the Alabama Symphony Orchestra, was selected from a vast field of highly qualified candidates from around the world, by a search committee that included such luminaries as Composer and Conductor David Newman; Los Angeles Philharmonic COO, Chad Smith; NY Philharmonic VP of Artistic Planning, Edward Yim; and Dean of the USC Thornton School of Music, Robert Cutietta; as well as a host of AYS Board Members, alumni, and industry leaders.
"Maestro Izcaray is one of the greatest examples in this art form of conductors who skillfully embrace its rich history and traditions in equal measure with an innovative embrace of its future."

Varina Bleil, Executive Director of AYS
"We are extremely fortunate to have Carlos Izcaray become our new Music Director. AYS musicians and audiences will greatly benefit from his artistry, enthusiasm, and experience. We all look forward to the future of this exciting partnership." - Kevin Dretzka, Chairman of the Board of AYS
Considered one of the leading conductors of his generation, Maestro Izcaray has toured extensively throughout the US and Europe as a guest conductor, and has worked tirelessly to support the next generation of musicians by partnering with the world's top talents and leading music education institutions, including El Sistema in his native Venezuela, Cambridge University Music Society, London Schools Symphony Orchestra, and the World Youth Symphony Orchestra. Throughout his career, Izcaray has shown special interest and prowess in tackling some of the most complex scores in the symphonic repertoire, while also championing the historically informed approach to works from past eras.
"I'm incredibly honored and excited to become the next Music Director of the American Youth Symphony, an ensemble with a deep history and a bright future in the great city of Los Angeles. AYS is without a doubt one of a handful of elite training orchestras in the United States, hence I cherish the opportunity to contribute to the development of the next generation of top professional musicians." - Carlos Izcaray
Born into an artistic family in Caracas, Maestro Izcaray was enrolled in Venezuela's public system of youth orchestras at age three, and began studying conducting with his father when he was a teenager. He is an alumnus of the Interlochen Arts Academy, New World School of the Arts, and Jacobs School of Music at Indiana University. He was named a distinguished fellow at the American Academy of Conducting at Aspen, and won top prizes at the Aspen Music Festival, and Toscanini International Conducting Competition, in 2007 and 2008.
In addition to his work on the podium, Maestro Izcaray is also a celebrated cellist, accomplished composer, and avid human rights activist. His musical tastes range from Mozart and Shostakovich to Miles Davis and Radiohead, and he has even been known to share his musical talents outside of the concert hall as a Deep House DJ. He is a dual citizen of Spain and Venezuela, and is currently based in Birmingham, Alabama, with his wife Yolanda, and their three children Sofia, Alicia and Sebastian. He is now looking forward to coming to LA on a regular basis, and beginning what he believes is the start of a great relationship with this amazingly vibrant city.
"We are eager to introduce our community to Maestro Izcaray's inspiring approach to both musical pedagogy and programming. Maestro Izcaray is one of the greatest examples in this art form of conductors who skillfully embrace its rich history and traditions in equal measure with an innovative embrace of its future." – Varina Bleil, Executive Director of AYS
AYS has also hired a Resident Conductor, Maestro Juan Felipe Molano. Maestro Molano was appointed conductor of the Los Angeles Philharmonic's YOLA in 2014, and previously held that position with the Colombian Youth Philharmonic and Batuta Colombian System of Youth Orchestras (El Sistema - Colombia). He served as Music Director of the Yucatan Symphony Orchestra for five years, conducting an eclectic symphonic repertoire, operas and contemporary works, and collaborating with artists such as Placido Domingo, Cuarteto Latinoamericano, Joseph De Pasquale, and Ryu Goto, among many others. He has also conducted top orchestras throughout Europe, the United States, Asia, and South and Central America, including Los Angeles Philharmonic, Slovak Radio Symphony and Youth Orchestra of Americas. He has a deep passion for education; he has worked as a university professor for the last 15 years in Colombia, Mexico and now the US, and is committed to inspiring orchestras and enriching audiences from the podium. Maestro Molano lives in Los Angeles with his wife Cristina, and daughters Isabella and Valeria.
Maestros Izcaray and Molano are looking forward to working together to uphold the exemplary educational and performance tradition of the American Youth Symphony.
AYS was founded in 1964 by Maestro Mehli Mehta, who held the podium until he retired in 1998, at age 90. He then passed the baton to Maestro Alexander Treger, who led the orchestra through its 50th Anniversary Season in 2014/15.
Heralded by KUSC's Jim Svejda as "the finest youth symphony on earth," the mission of AYS is to inspire the future of classical music. The orchestra provides paid fellowships to 100 musicians ages 15-27 who represent extraordinary talent from all over the world; and presents concerts for free as a gift to the community – part of a long-standing commitment to eliminating all barriers to experiencing the remarkable beauty, power and inspiration of classical masterworks.
​​Contact:
Alice Dutton | 310-470-2332 | Alice.Dutton@AYSymphony.org
Source: American Youth Symphony
Related Media
Additional Links