American Workers Report Highest Percentage of Discrimination Over Leading European Countries
Press Release
•
updated: Aug 9, 2023
A Revolutionary New Study Examining Diversity, Equity & Inclusion (DE&I) Found That Blacks (50 Percent), Middle Eastern (50 Percent), and LGBTQIA+ (45 Percent) Workers Were the Most Affected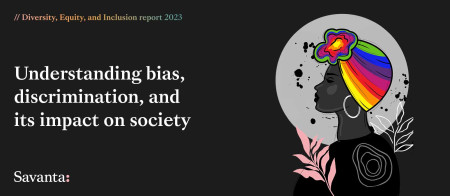 LONDON, England, August 9, 2023 (Newswire.com) - Nearly a third (33 percent) of U.S. employees have faced workplace discrimination, according to a new eye-opening investigation into Diversity, Equity & Inclusion (DE&I) by leading global market research agency Savanta.
The study also revealed that American workers reported the highest percentage of discrimination than any other European country. And, among under-represented U.S. groups, these percentages increased significantly.
Reported Workplace Discrimination:
Black individuals - 50 percent
Middle Eastern individuals - 50 percent
LGBTQIA+ individuals - 45 percent
Hawaiian or other Pacific islanders - 33 percent
Asian peoples (South, Southeast, East, and Central) - 33 percent
Savanta's "Understanding Bias, Discrimination, and Its Impact on Society" researched the lived experiences of nearly 5,000 participants across the U.S. and Europe to learn how identity (i.e. race, religion, and sexuality) affected DE&I initiatives in the workplace, on brand perception, and how they fed into consumer behaviorism.
"Savanta's goal is, and always will be, to conduct research and collect data on key issues that affect people and impact the world around us," said Sadia Corey, VP of client development for Savanta. "This study on intersectionality - the interconnected nature of social categorizations - gauges how experiences vary between under-represented groups, in particular. We want to make sure that everyone feels heard and identify some of the barriers people face so that, as a society, we can start to remove them."
DE&I in the Workplace
"Understanding Bias, Discrimination, and Its Impact on Society" focused heavily on identity discrimination in the workplace (i.e. race, religion, sexual orientation, gender), unlike other DE&I studies, which noted documented cases of discrimination as reported to the U.S. Equal Employment Opportunity Commission (EEOC), including issues of retaliation, disability, and age.
What it found was that not only have one-third of American employees faced discrimination - with that number significantly increasing among the under-represented population - but that 37 percent reported they had left a role or are considering doing so in the near future. This has employers starting to recognize that structured DE&I programs are needed, especially in a tight hiring market.
However, the percentage of organizations investing in DE&I isn't staggering. According to U.S. respondents, only 38 percent of companies have implemented a DE&I task force or team to date. Yet, there is good news on the horizon. Of those who have implemented a DE&I program to identify issues and make changes within their workforce, the data suggests that, where they do exist, they can be incredibly effective. In fact, 76 percent of U.S. workers believed that the DE&I training had an impact on workplace culture and 80 percent reported that it was effective in implementing change.
DE&I and Affirmative Action
During this contentious time in America, with the reversal of Affirmative Action in colleges and universities, many are wondering how it may potentially affect DE&I in the corporate world. While there is no legal ruling stating that organizations must adjust their DE&I practices, the Society of Human Resource Management (SHRM) recently wrote, "Diversity, equity and inclusion (DE&I) strategies may evolve as a result of the [Supreme Court] decision and shift to focus more on inclusion."[1] Meaning, creating an environment where employees feel safe, heard and respected should become the norm.
"America is in the midst of a very pivotal moment for DE&I, particularly when it comes to the workplace," said Corey. "While our research shows that these initiatives and programs are needed - and that employees believe that they do indeed work - employers should start considering revamping the structure of these practices before the justice system does it for them. By leaning toward a more inclusive approach, staff and management will create an environment built on respect and security where both can thrive."
Brand DE&I Efforts Impact on Consumer Behavior
The report has shown that U.S. workers feel strongly about DE&I in the workspace, but how does this translate to their buying habits? According to the data, while price, convenience and quality will always be dominating factors in consumer purchase decisions, some will shop with their feet if a business does not show ethical behavior. This includes its investment in DE&I. In fact, 31 percent of Americans said that they will not buy from a brand that is not committed to diversity, equity and inclusion.
The old adage of "Treat others as you would want to be treated" resonates with those who may have experienced discrimination, and it means that they want to support people like them and remove their support from companies that display harmful, inconsiderate or hypocritical behavior. This is evidenced by the 37 percent of under-represented U.S. consumers who reported that they will not buy from a brand that is not committed to DE&I. This research reveals attitudes towards DE&I that suggest that brands need to practice what they preach and consult with diverse groups or risk alienating loyal customers.
To learn more about "Understanding Bias, Discrimination, and Its Impact on Society," or to view the report, visit Savanta Report.
Methodology
Savanta conducted research for the report between May and June 2023. In total, 4,973 adults were surveyed across six countries, 29 percent of whom were based in the U.S. 53 percent identified as female, 45 percent identified as male, and 2 percent identified as gender non-conforming. Four generations were surveyed, including 17 percent Gen Z (age 18-25), 30 percent Millennial (age 26-40), 31 percent Generation X (age 41-59), and 22 percent Boomer II (age 60+). Eighty-five percent surveyed identified as heterosexual, 11 percent as LGBTQIA+, and 4 percent preferred not to say. Race was reported as 74 percent White/Caucasian and 28 percent BIPOC in the U.S. and U.K. In addition to the quantitative survey conducted across markets, the conversational insights platform Voxpopme was used to collect qualitative data through 155 video responses to a variety of questions. This mix of both qualitative and quantitative research helped inform an array of rich findings on the topics Savanta focused on. Note: Ethnicity was only identified in the U.K. and U.S. due to Europe's ban on data collection by race.
About Savanta
Savanta is a fast-growing, global, data, market research, and advisory company that informs and inspires its clients through powerful data, empowering technology, and high-impact consulting, to enable its clients to make better decisions and achieve faster progress.
To learn more about Savanta, visit www.savanta.com
# # #
[1] Smith, Allen. "Comprehensive DE&I Strategies May Result from Supreme Court Ruling" https://www.shrm.org/resourcesandtools/legal-and-compliance/employment-law/pages/affirmative-action-diversity-programs.aspx
Source: Savanta