American Heart Association Walk in Asbury Park
Howard Schoor Survivor Ambassador led the Shoreline Walk to support heart disease and stroke research.
Press Release
-
updated: Oct 12, 2017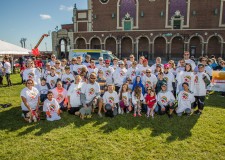 Asbury Park, New Jersey , October 12, 2017 (Newswire.com) - "The walk was terrific, as the guy in charge of the weather I did great," said Survivor Ambassador Howard Schoor as he started off the day sharing the story that brought him there, "I had no symptoms whatsoever. I felt no chest pain, and was fit and healthy. It was like someone hit me on the side of the head with a 2x4 when I found out." Howard Schoor, 78 years young, of Asbury Park never expected to battle heart disease. In October of last year, his test showed some irregularities and his cardiologist requested a catherization. Schoor underwent the catherization as planned, "expecting the worst-case scenario would be a stent or two."  But afterwards, he received the news that he would need bypass surgery to open six arteries in his heart. On January 24, Schoor received sextuple bypass surgery by Dr. Craig R. Smith, a leading cardiovascular surgeon and a NYC American Heart Association Board Member. The good news was that his recovery went smoothly and now he's back to what he really loves doing: making retirement busy with painting, philanthropy and overseeing several businesses. 
This year the revitalized Shoreline Heart Walk took place on the Asbury Park Boardwalk with thousands of people joining forces on a beautiful sunny day in order to make an impact on cardiac and vascular disease. Raising approximately $180,000 Chairman of the walk, Dr. Brett Sealove said, "It was an opportunity to build a culture of Health - focusing on building healthier behaviors and striving for more fitness in our daily lives. It was a day to both raise awareness and cherish memories of those loved ones who were victims of heart disease and stroke- two diseases that kill more people collectively than anything else in the country. With almost 80% of heart disease and stroke being preventable by living a healthier lifestyle (including exercise), neighborhoods got together in order to fight the fight together - one step at a time."
Gathering around Schoor were his friends, family and a few dogs this past Sunday as they walked along the boardwalk to raise funds to support the fight against our nation's No. 1 leading cause of death. All wearing a specially designed shirt by Howard Schoor himself with a rainbow for Asbury, a triangle his signature touch and a heart to support the Shoreline Walk. "Nothing has really changed since my bypass surgery, but I do try to eat more fruits and veggies, and I walk the boardwalk every day," said Schoor. Team member and long time friend Howard Bernstein from Marlboro, NJ shared why he was there with his family, "I walked today for my friend but I am also a survivor for almost 1o years now!"  
Another Schoor Art Team member, Susan Herrman from Manalapan, walked after recovering from a hip replacement just a few weeks ago, "I've outlived both my maternal grandparents. They both died in their 60's so I had to be here to walk for them as well, it's one of the best things you can do for yourself so I keep walking!"  
To learn more about the American Heart Association you can visit www.shorelineheartwalk.org to learn more about Howard Schoor you can visit, www.howardschoorart.com
Source: Howard Schoor
Share:
---
Categories: Artists, Philanthropy, Charitable Contributions
Tags: American Heart Association, art as business, artist, collectable art, modern art, philanthropy
---