American Advertising Federation, District 2 Kicks Off Advertising Week New York
Press Release
•
Oct 4, 2016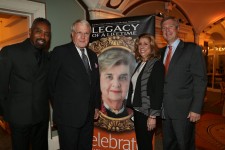 New York, NY, October 4, 2016 (Newswire.com) - ​​​District 2 of the American Advertising Federation kicked off Advertising Week New York with the First Annual Legacy of a Lifetime Awards. Advertising professionals spent the evening celebrating four industry superstars for their commitments to Diversity, Creativity, Leadership and Education.
The Legacy of a Lifetime Awards were created in memory of the first female chair of the American Advertising Federation and Advertising Hall of Famer, Patricia Martin. Pat Martin spent her life strengthening the advertising industry by working tirelessly on the American Advertising Awards, National Student Advertising Competition and Diversity Achievement Awards. Helen Lavelle, Chair of Legacy of a Lifetime said, "Not only was Pat my mentor and friend, she was a role model to many within our industry, including the first ever, Legacy of a Lifetime Award Recipients."
The Pat Martin Diversity Award went to Louis Carr, President of Media Sales of BET Networks. Michele Thornton, Senior Vice President of Media Sales at Centric TV, emphasized Louis's commitment to diversity. While accepting his award, Louis left the audience with inspiring advice. He said, "No matter what industry you are in, whatever you choose to do with your life, remember to make it bigger than you." One of his many accomplishments is the Louis Carr Foundation that provides paid internships to students of color throughout corporate America.
Gino Grillo, President & CEO of The Advertising Club of New York and Madhu Malhan, Vice President/Director of Creative Branding at Publicis, presented Leslie Winthrop Co-Founder of AAR Partners, with the Pat Martin Education Award. Leslie is well known throughout the industry for her 30-year commitment to the National Student Advertising Competition. Students and faculty from Marist College and The University of Scranton attended to show their appreciation for her decades of service.
John Osborn, CEO of BBDO New York received the Pat Martin Creativity Award for his powerful work for the agency's clients including FedEx, GE, CVS, and Mars. Jim Norton, Global Head of Media Sales at AOL and Immediate Past Chair of the American Advertising Federation presented John with his award. The BBDO table was charged with energy and enthusiasm as John's colleagues and team members celebrated him on the dance floor.
David Bell, Chairman of Gyro, received the Pat Martin Leadership Award for his numerous leadership roles in the industry. Christoph Becker, one of David's many mentees and CEO and COO of Gyro shared with the audience a piece of advice he received from David. He said, "You have to act like a kite, fly free, but always have an invisible line that takes you to the ground." In addition to being the only industry executive to lead all four industry organizations, including the AAF, David also served as CEO for the industry's three largest companies, Bozell Worldwide, True North Communications, and Interpublic.
BBDO New York, BET Networks and Interpublic Group generously sponsored Legacy of a Lifetime. The American Advertising Federation is comprised of over 200 chapters and 5,000+ students across the United States. All proceeds from the evening benefit, District 2 advertising clubs from New York, New Jersey, Pennsylvania, Washington DC, Delaware and Maryland. Funds are used to promote Diversity, Education, Leadership and Creativity through professional development programs.
Industry professionals from companies including Gyro, Omnicom Media Group, Double Verify, Dstillery, The Advertising Club of New York, Spotify, iHeart Media, Time, Inc., Dashbid, and Saatchi & Saatchi gathered at The Pierre to enjoy a fun, unconventional evening that featured dancing to music provided by The Rhythm Shop.
To be involved in the 2nd Annual Legacy of a Lifetime Awards, or join District 2 of the American Advertising Federation, contact Doreen DeFabio Duska, Governor, at doreen.defabio@timesnews.com.
Source: District 2, American Advertising Federation
Related Media