AmadeTech Launches a New DIN Abrasion Tester With Vacuum Function to Measure Wear Resistance of Rubber
Press Release
•
Mar 21, 2023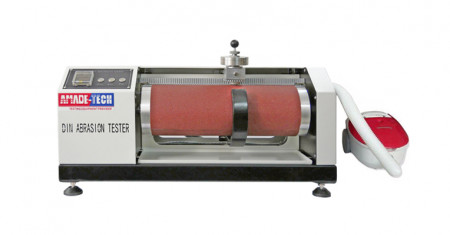 DONGGUAN, China, March 21, 2023 (Newswire.com) - Amade Technology, a professional supplier of rubber testing equipment, recently launched a new DIN abrasion tester with a dust suction function, aiming to provide more efficient, accurate, and safer abrasion testing solutions for the rubber industry.
The DIN abrasion tester is a device that simulates the abrasive action on rubber products, such as tires, hoses, belts, and footwear materials. The tester consists of a rotating drum covered with abrasive cloth and a specimen holder that presses the rubber sample against the drum at a specified load and speed. The amount of material loss due to abrasion is measured by weighing the sample before and after the test. Other devices with similar functions include the Akron abrasion tester, NBS abrasion tester and Taber abrader.
Jason, a technical engineer from AmadeTech, says: "Most of the DIN abrasion testers on the market have no special vacuuming function, as test standards such as ISO 4649 and DIN 53516 do not have a compulsory stipulation on removing debris from the surface of the abrasive cloth on the cylinder with a vacuum, except SATRA TM174, which requires a vacuum suction system in the machine. Now, our new machine meets this requirement perfectly."
When using the conventional DIN abrasion testing machine, the operator must manually brush off the dust from the sample on the abrasive cloth with a bristle brush when the machine is running. Otherwise, it will affect the sharpness of the surface of the abrasive cloth during the test, compromising the test results. Moreover, manual operation increases the workload of the operator. In addition, the dust also has an adverse effect on the health of the operator. The new Din Abrasion Tester from AmadeTech helps solve these problems. Thanks to a built-in vacuum system, the machine is able to automatically remove the dust and debris generated during or after each test cycle, ensuring that the abrasive cloth maintains its original roughness and prevents contamination by rubber particles. Meanwhile, the operator no longer has to stand by the machine when testing.
In a word, the AmadeTech New DIN Abrasion tester has a positive impact on improving the accuracy and repeatability of the test results and enhancing safety and environmental protection.
AmadeTech is committed to providing high-quality testing machines for the rubber industry, including two roll mills, moving die rheometers, tensile testing machines, ozone aging chambers, etc. The company has a team with rich experience, exquisite technology, and excellent service. The company adheres to the "customer-centric" concept and constantly pursues the improvement of product quality and service level. If you are interested in AmadeTech, please visit our website www.amade-tech.com or contact us at sales@amade-tech.com. We will be happy to provide you with more information and support.
Source: Amade Technology