Alouette Debuts NEW Brie for Grilling Just in Time for Summer
Press Release
•
May 23, 2023
Cheese lovers, grill masters, and party hosts will love the warm, melty texture and endless recipe options that Brie for Grilling offers.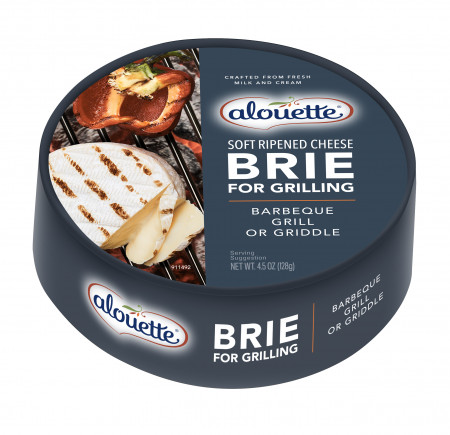 NEW HOLLAND, Pa., May 23, 2023 (Newswire.com) - Known for its portfolio of spreadable cheeses, Brie, and Crème de Brie, Alouette is debuting NEW Brie for Grilling just in time for summer. Crafted by French cheesemakers, Alouette Brie for Grilling is creamy and melty, yet strong enough to hold its iconic shape even when cooked at high heat on the grill (a first-of-its-kind innovation).
Perfect for summer hosting season, each 4.5oz wheel fits perfectly on standard burger buns and can be sliced widthwise to melt on burger patties. For vegetarian cheese fans, simply substitute with a veggie burger, toss through a seasonal salad or simply serve on a cheese plate. The recipe options with Alouette Brie for Grilling are endless.
"Americans love Brie, especially when it is baked or melted, with 6 out of 10 fans preferring it that way*," said Kriston Ohm, Vice President of Marketing at Alouette. "We're debuting Brie for Grilling with this in mind to give home chefs, hosts, and cheese lovers a unique way to enjoy the creamy, melted delicacy of Brie this summer without ever having to turn the oven on or leave their backyard."
Alouette Brie for Grilling will be available in stores nationwide starting later this month for a suggested retail price of $5.99.
*Alouette Brie Attitude & Usage Study, 2017
ABOUT SAVENCIA CHEESE USA
Savencia Cheese USA is a family-owned subsidiary of Savencia Fromage & Dairy — the world's leading specialty cheese producer. Savencia Cheese USA specializes in crafting high-end cheeses under the Alouette, Supreme, Chavrie, Dorothy's and Smithfield brands as well as Hope Foods, a leading plant-based dips and spreads brand. Additionally, Savencia Cheese USA imports fine cheeses from France featuring cheeses such as Ile de France, Saint André, Saint Agur and World Champion Esquirrou. For more information, please visit www.savenciacheeseusa.com.
Source: Alouette