ALOM CEO Hannah Kain to Receive the 2017 International Women's Entrepreneurial Challenge (IWEC) Award
Press Release
•
updated: Nov 9, 2017
Kain is being recognized for leadership in e-commerce and supply chain technology innovation and economic impact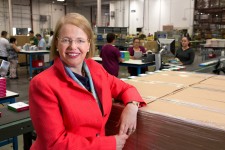 FREMONT, Calif. , November 9, 2017 (Newswire.com) - Hannah Kain, president and CEO at ALOM, a global leader in supply chain management, will be honored with the 2017 IWEC Award during the organization's 10th annual conference hosted by Microsoft at their global headquarters in Redmond, Washington, on Nov. 12-14. The conference, titled "Connecting Women Businesses Globally: Accelerating Growth Through Innovation & Technology," has a strong focus on technology, cybersecurity and innovation, issues that are pivotal to IWEC's sophisticated global network of women-owned businesses, whose combined revenue exceeds US$25 billion per year.
Kain was nominated for the prestigious award by Virginia Littlejohn, co-founder of Quantum Leaps. Quantum Leaps is an IWEC affiliate organization dedicated to impacting economic growth by providing transformational women entrepreneurship solutions. Littlejohn stated, "Hannah Kain is a dynamic pacesetter, enabling companies to compete and win in today's marketplace. For 20 years, Hannah has created and successfully adapted technology that supports economic growth through e-commerce and global supply chain visibility. At the same time, she has been a passionate advocate for other women's business success through partnerships, mentoring and community support."
I am deeply honored to accept the 2017 IWEC Award on behalf of and with gratitude to the many brilliant women business leaders and technology innovators who have inspired and mentored me during my career.

Hannah Kain, President and CEO, ALOM
As an example of ALOM's global economic impact, the company recently opened its 18th worldwide fulfillment and distribution hub in Indianapolis, Indiana.
"I am deeply honored to accept the 2017 IWEC Award on behalf of and with gratitude to the many brilliant women business leaders and technology innovators who have inspired and mentored me during my career. This year's IWEC conference theme of accelerating global growth through innovation and technology is extremely timely for so many women's businesses on the cusp of breakout growth," Kain said.
"At ALOM, ongoing technology innovation is integral to securing and tracking every order, and for building connectivity and visibility into products, services and the supply chain. The next 10 years will be transformative for supply chain, and we are determined to continue our leadership position," she added.
Kain, who was born in Denmark and holds three university degrees, started Silicon Valley-based ALOM in 1997 after a successful executive run in the manufacturing, finance and packaging industries. She is a frequent lecturer and speaker, and author of a popular textbook on market analysis, which is now in its fourth edition. Kain is a member of several advisory boards, among them the National Association of Manufacturers and Heritage Bank of Commerce. Among her accomplishments are numerous awards for leadership, management, business and community involvement, including the 2015 Silver Stevie award as the best global woman-owned company, and now the IWEC award.
"IWEC understands that providing access, resources and support to help enable the success of female entrepreneurs is key to ensuring women's active, sustainable participation in the global economy, and contributes to close the gender gap. We provide a global forum to exchange knowledge, experience and connectivity among women business owners, setting the stage for education, disruptive business opportunities, roads to joint ventures and promoting social dialog among women entrepreneurs and business leaders," said Ruth A. Davis, chairwoman, IWEC.
About IWEC
IWEC is a New York-based international economic empowerment organization exclusively for women business owners, formed in 2007 with the assistance of the U.S. Department of State. In addition to the State Department, its founders include the Barcelona Chamber of Commerce, the Manhattan Chamber of Commerce (MCC) and the FICCI/FLO Chamber in New Delhi. IWEC's mission is to develop a global business network for successful women entrepreneurs, helping them gain and expand access to international markets by presenting a platform to exchange knowledge, experience and connections, and to promote dialogue among women entrepreneurs and business leaders throughout the world.
About ALOM
ALOM is a global supply chain management services and solutions provider serving as a partner to its Fortune 100 clients in the automotive, government, medical, telecommunications and utility/energy sectors. Its expert team of strategists, engineers and specialists operate in ALOM's 18 locations including its global headquarters in Fremont, California, its offices across the U.S. and in Hong Kong, and affiliated facilities around the world. ALOM service offerings include procurement, e-commerce, inventory, assembly, digital media duplication, print management, fulfillment, IT integration and operations. ALOM is proud to deliver its clients' products and services impeccably, enrich the client experience and uphold their brand reputations. www.alom.com
Contact: Lynthia Romney, romneycom@gmail.com, (914) 238-2145
Paul Hendrycks, ALOM, phendrycks@alom.com, (510) 360-3628
IWEC: Nancy Ploeger, Executive Director, IWEC. np@iwecawards.com. (917) 796-4201
Source: IWEC
Related Media
Related Files
Additional Links