Allmade is Made to Make a Difference
Ryonet Announces Launch of Allmade, a Socially Conscious Apparel Line Created to Help Prevent Economic Orphans in Haiti
Press Release
-
updated: Mar 14, 2017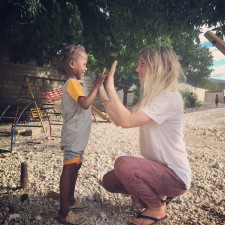 Vancouver, Washington, March 14, 2017 (Newswire.com) - The fashion industry is the second most polluting industry in the world, second only to the petrochemical industry. Additionally, many apparel brands produce their products overseas in sweatshop-like conditions. Few manufacturers are committed to higher environmental and social responsibility standards, even fewer supplying the screen printing industry, until now. Ryonet, a leader in the screen printing industry, along with 10 of the top screen printers from around the country, are proud to announce the launch of Allmade, an apparel line making shirts you can feel good about.
The pollution problem from the fashion industry is a real threat. Much of the industrial cotton used is grown in regions with minimal regulations, exposing workers and the environment to deadly chemicals. The materials are then transported across the globe using bunker fuel, an oil residue so toxic that many countries won't allow ships using it within 200 miles from their shores.
The brand has committed to using high quality and low impact materials in their production. They use organic, US-grown cotton and polyester from recycled bottles. Each Allmade t-shirt is made with the equivalent of 3 plastic bottles. The yarn and fabric are manufactured here in the US and sent to Haiti for final production.
Pollution, however, is not the only problem with this industry. The wages that are paid to apparel workers overseas is destroying families. The standard pay wage in Haiti, where a large percentage of textiles are produced, is a mere $3.00 per day. This wage is not enough for the workers to maintain a functioning lifestyle, let alone be able to care for their families by providing food, shelter, and clothing. Parents in Haiti are too often forced to send their children to orphanages due to their financial inability to care for them.
Allmade has partnered with GOEX, a subsidiary of the Global Orphan Project, to end help this injustice. GOEX is hiring workers in Haiti to sew the shirts for a wage 5 times higher than similar jobs in the area. GOEX offers their workers a clean, well-lit, state-of-the-art facility. Through this partnership, the Allmade movement is creating jobs that pay a true living wage allowing families to stay together.
"The exploitation of workers and the environment in our industry is poorly understood and too easily ignored," says Executive Vice President, Rogier Ducloo. "We're excited to be able to offer an alternative and contribute in such a positive way." Allmade is currently running an Indiegogo campaign to help raise funds to get this project in full motion. To learn more about their mission, visit https://www.indiegogo.com/at/allmade.
The Allmade line will be an excellent source for companies looking to partner with companies who share their environmental and social concerns. Allmade is setting out on a mission to inflict positive change to an industry in desperate need of change. Allmade is more than a brand, it's a movement.
About Allmade
Allmade is an apparel brand created and launched by the help of 10 of the top screen printers across the country including Ryonet, Superior Ink, Barrelmaker Printing, Definition Industries, Denver Print House, Nothing Too Fancy, Rockford Art Deli, Maui Print Life, Sandi Lake Clothing, Synergy Media Ltd, and Printed Threads. Allmade products are made from organic, US-grown cotton and polyester made from recycled bottles. Allmade has partnered with GO Exchange, a subsidiary of The Global Orphan Project, to employ workers in Haiti to cut and sew their t-shirts, and offer their workers a real living wage. These high-quality shirts are bringing families back together and helping to prevent economic orphans in Haiti.
For more information about Allmade, visit https://www.indiegogo.com/at/allmade. For media inquiries and requests for hi-res images, please contact Rachel Czyzynski at Rachel@NewLightCommunication.com.
Source: Allmade Apparel
Share:
---
Categories: Emerging Businesses, Environmental Protection, National News
Tags: Allmade, Apparel, Awareness, Environment, Fair Wages, Haiti, Indiegogo, Organic Cotton, Orphans, Recycled Material, Ryonet, Startup, Sustainable
---