Alliance for Community Media Honors BIG and Several of Its Members
Press Release
-
updated: Sep 14, 2017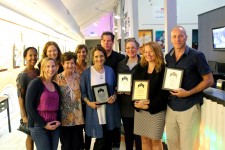 BROOKLINE, Ma., September 14, 2017 (Newswire.com) - Brookline Interactive Group is thrilled to announce the Alliance for Community Media (ACM) recently honored them with the award for "Overall Excellence in Public Access" at this year's Hometown Media awards ceremony during the ACM Annual Conference this July. In addition, several BIG members and partners were honored on this national platform for their excellent work.
Brookline's winners include The Grandstanders television show headed by Scott and Adrienne Kerman for "Best of Sports Coverage" by an Independent Producer; Get Out the Vote, a film created by Charlie Walsh for BIG's first annual 11 Day Film Sprint in October 2016, won for "Best of Voter Education" by an Independent Producer; and a community journalism piece on the Goddard House's gardening program by Marcia Hulley won for "Best of Community Impact" by an Independent Producer.
"We put together our little film as part of BIG's 11-Day Film Sprint in the Fall, 2016," said Charlie Walsh of Brookline, Massachusetts. "It was a lot of fun and a great way to connect with other creative-types around Brookline. But we didn't think much else of it until we heard it won this national award. It was a very pleasant surprise! And very cool. I mean, who wouldn't want to be known as 'an award-winning filmmaker' right?!"
The Hometown Media Awards are a key element of the annual ACM conference which recognizes community media voices from around the country. Community media centers and public access television organizations all across the country may submit their and their members' work from the prior year for consideration for several specific categories, which are then examined by a panel of judges. Kathy Bisbee, executive director of BIG, was in attendance at this year's award ceremony, which was held in Minneapolis, Minnesota, to accept these awards on behalf of BIG and its members.
"BIG has been very supportive in helping our shows development," said Scott Kerman of The Grandstanders. "Kathy and her staff have been there along the way to assist. Being able to have a Boston sports talk show with my three close friends is a dream. None of them had ever been on TV before and they're naturals. We're having a blast."
To celebrate, BIG hosted an evening reception for the award winners and their friends and colleagues who contributed to their excellent work on Wednesday, Aug. 9.
The Alliance for Community Media was founded in 1976. The Alliance represents over 3,000 Public, Educational and Governmental (PEG) access organizations and community media centers throughout the country.

About BIG: Brookline Interactive Group (BIG) is an integrated media and technology education center and a community media hub for Brookline, Massachusetts. BIG provides access to innovative media-making tools, facilitates diverse community dialogue, incubates hyperlocal storytelling, arts, media literacy and technology projects, and serves over 500 youth annually. BIG offers extensive multimedia training, collaboratively produces local content, and provides low-cost professional media services to nonprofit organizations, education partners, businesses, and to local government.
Contact: Erin Kinney at erin@brooklineinteractive.org
Source: Brookline Interactive Group
---
Categories: A&E News, Television, Media Industry
Tags: access centers, arts, collaboration, community, film, filmmaking, media centers, movies
---