Alenco Honors Local Veteran With Free Shower Remodel in Recognition of Veterans Day for the Fifth Year in a Row
Press Release
•
Nov 8, 2021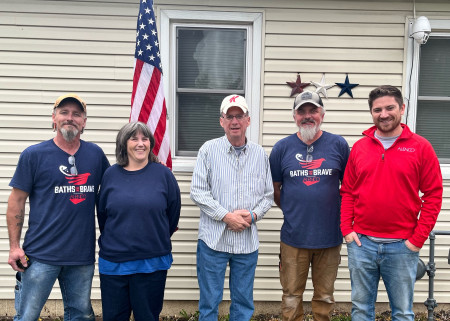 KANSAS CITY, Mo., November 8, 2021 (Newswire.com) - Alenco Inc, a family-owned and operated home improvement solutions provider, has awarded local veteran, Ken Riley, and his wife Tonya, with the gift of a freshly installed walk in shower. Nearly a dozen home improvement companies from across the country have joined together to create Baths for the Brave, a special one day event to help improve the lives of veterans.
The expert Alenco installation team of John and Daniel Rounds installed the shower at the Riley's home in Belton, MO on Nov. 4. They were able to remove the existing tub and replace with a safe, walk-in shower with a bench in less than 6 hours.
"It's rewarding to be able to provide a new shower and a safe bathing environment to a family that has given so much to our nation," Jonathan Erskine, Vice President of Alenco, said. This is the fifth consecutive year that Alenco has taken part in the program.
About Baths for the Brave
Baths for the Brave, a special event and partnership between nearly a dozen home improvement companies nationwide, provides veterans with newly remodeled baths or showers in an effort to improve their lives by making their bathrooms more accessible. This year's remodels will take place for veterans across the country simultaneously, with parts of the installs captured in real-time via Facebook and Instagram stories. More information on Baths for the Brave is available at www.bathsforthebrave.com.
About Alenco, Inc.
Since 1986, Alenco has served customers in Kansas City and St. Louis, installing superior performance products including energy efficient windows and doors, siding, and shower replacement systems. As a family-owned and operated business, their mission has always been simple: to offer customers top-quality products and unbeatable service.
Contact Data:
Sam Byrd
General Manager
Email: sbyrd@alencohome.com
Phone: 913-438-1902
Source: Alenco Inc