AI and the Future of Digital Healthcare: A Transformative Afternoon Hosted by the Connected Health Initiative and Duke AI Health
Press Release
•
Aug 29, 2023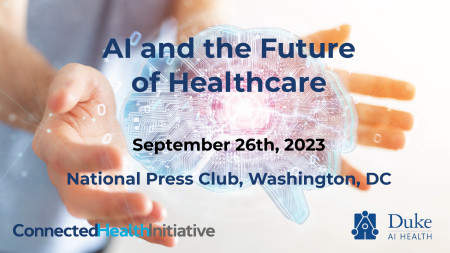 WASHINGTON, August 29, 2023 (Newswire.com) - The Connected Health Initiative (CHI), in collaboration with Duke AI Health, is thrilled to announce the upcoming event: "Artificial Intelligence and the Future of Digital Healthcare." Set to take place on September 26 at the prestigious National Press Club in Washington, DC, this groundbreaking event will gather experts, thought leaders, and policymakers to explore the convergence of artificial intelligence (AI) and healthcare, and its profound impact on our future.
The event's mission is to facilitate a comprehensive dialogue on the state of health AI, its deployment, policies, and recommendations for the way forward. With AI's ability to accelerate outcomes, enhance cost savings, and transform the healthcare landscape, this event is a pivotal moment for experts, policymakers, providers, and technology innovators to collaborate and shape the future healthcare landscape.
Agenda Highlights:
• Keynote address: Congressman Greg Murphy, M.D. (NC-03), will share his perspectives on the intersection of AI and healthcare.
Panel discussions:
• Perspectives on the State of Health AI: Leading experts will delve into the current state and future directions of health AI, exploring its implications for healthcare systems.
• U.S. Government Perspectives on Health AI: Key representatives from the U.S. government will discuss policy trends and the regulatory landscape concerning health AI.
• Duke AI Health's People-Process-Technology Framework: Presenting their Algorithm-Based Clinical Decision Support Oversight program, Duke AI Health representatives will showcase strategies for bias mitigation and health equity.
• New Rules for Consumer Health Privacy and AI: A stakeholder discussion on recent digital health privacy and AI laws, regulations, and enforcement actions, along with proposed solutions to address privacy challenges.
• Key Stakeholder Perspectives on Health AI Governance and the Path Forward: The event will conclude with a panel featuring representatives from the tech developer, provider, payer, and patient communities discussing health AI governance and the future trajectory.
Date/Time: September 26, 12:30 p.m. - 5:30 p.m. ET (followed by reception)
Location: National Press Club, 529 14th St NW, Washington, DC 20045
Event details here: https://connectedhi.com/shape-the-future-of-ai-and-digital-health/
Source: Connected Health Initiative
Tags