Advocate by Pharma Supply, Inc. Releasing PetTest Branded U-40 Syringes for Pet Use
Press Release
-
updated: May 2, 2019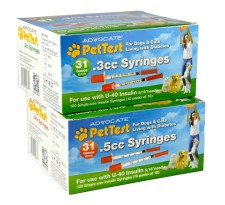 WELLINGTON, Fla., May 2, 2019 (Newswire.com) - ​Advocate by Pharma Supply, Inc. is releasing PetTest-branded U-40 syringes for pet use, available for pre-order immediately.
The PetTest U-40 syringes are 31 gauge, extra fine needles that, according to COO Steven Thuss, "are just as comfortable as most human syringes." "We care deeply about our customer's pets, so why wouldn't we offer a comfortable option for our furry friends as well?" questioned Thuss. 
PetTest's new syringe offerings, available in both 1/3 CC and 1/2 CC capacities, are a perfect match for U-40 insulin (commonly used for canine and feline diabetes) and do not require any conversions or calculations as a result. The new syringes also feature 1/2 CC unit markings, ensuring accurate doses, no matter how small.
There are currently no other 31 gauge, 5/16-inch length syringes available for U-40 insulin (competitors all use a thicker and less comfortable 29 gauge needle), and with this product launch, PetTest inches ever closer to becoming a "one-stop-shop" for all pet diabetes supplies. Coupled with their COOLshot Dermal Numbing Device, PetTest is doubling down on their efforts to provide the ultimate in comfortable glucose testing for pets -- before, during AND after lancing and injections. 
To shop pet syringes and all of their full line of supplies, visit the company's website at www.AdvocateMeters.com.
Source: Pharma Supply, Inc.
Share:
---
Categories: Pets
Tags: advocatemeters, canine diabetes, cat diabetes, dog diabetes, feline diabetes, pet diabetes, pettest, pharma supply inc, syringes, U-40 syringes
---