Advanced Network Devices Launches Gunshot Detection to Streamline Emergency Response
Press Release
•
May 31, 2023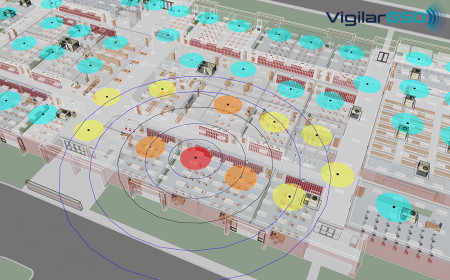 ARLINGTON HEIGHTS, Ill., May 31, 2023 (Newswire.com) - Advanced Network Devices (ANetD), the leading maker of IP endpoint devices for mass notification systems, is proud to announce its latest security offering for education facilities, Vigilar GSD. As of May 31, 2023, new customers purchasing ANetD IP speakers or displays can further safeguard their facility by adding on Vigilar GSD gunshot detection technology.
Now more than ever, educational facilities throughout the United States are facing safety and security concerns surrounding gun violence, with the gnawing fear in every teacher, parent, and student continuing to grow with each horrific incident. It is imperative that school districts and campuses have not only an emergency response plan in place but also technology that can instantly detect and notify first responders within seconds of a fired gunshot. Vigilar GSD is designed to do just that. Vigilar GSD leverages the network of ANetD IP speakers and displays, having built-in sensors and installed in numbers throughout a building, to detect and localize a gunshot, then send an audio verification recording to a designated building administrator. Once a gunshot is verified, an administrator can take action including building lockdown and notification of law enforcement through a Vigilar GSD integration partner software such as Singlewire's InformaCast Fusion. Every second counts during an active shooter emergency. Vigilar GSD provides nearly 100% accuracy in the detection of a gunshot so as to eliminate guesswork and streamline the involvement of first responders upon their arrival at the scene.
"Vigilar GSD really takes advantage of how our endpoints are installed within a facility. They're used for everything from paging and intercom to broadcasting of emergency communications and they're installed everywhere. It just makes sense for our customers to add a feature that truly benefits from this endpoint coverage and that adds an important layer of protection to the facility," said Abel Juarez, Vice President of Sales and Marketing, Advanced Network Devices.
Vigilar GSD was designed by experts in machine learning at Advanced Network Devices' parent company Digital Design Corporation (DDC). DDC is an engineering consulting and technology company with expertise in developing life-protection technology for the U.S. military. This expertise has been leveraged to develop and integrate Vigilar GSD into Advanced Network Devices IP speakers and displays, which provide an all-in-one solution for paging, intercom, and mass notification alerts in both audible and visual formats.
Click here to learn more about Vigilar GSD.
Source: Advanced Network Devices