Adv3nture Jackets Raise Six Times Original Kickstarter Funding Goal in Two Weeks
Company Behind Kickstarter's Record-Setting Adv3nture Hoodie Surpasses $300,000 for its Line of Innovative Adv3nture Jackets
Press Release
-
updated: Feb 13, 2018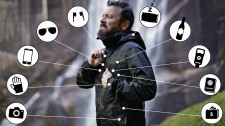 Los Angeles, CA, February 13, 2018 (Newswire.com) - ADV3NTURE JACKETS, from entrepreneur and TV personality Zane Lamprey, who launched the record-breaking Adv3nture Hoodie on Kickstarter in 2016, has officially surpassed $300,000 in funding since Adv3nture Jackets' January 29thKickstarter debut. The first-of-its-kind apparel line has raised six times its original funding goal of $50,000, with 15 days still to go in the campaign.
With more than 23 features and functionalities, Adv3nture Jackets include four meticulously designed pieces, all manufactured to ensure durability, comfort and unparalleled innovation. Each garment converts into an incredibly comfortable travel pillow, and includes a beverage pocket, bottle opener, passport pocket, sunglasses pocket, magnetic closure pockets, and a one-of-a-kind base layer/top layer integration.
Complete with an everyday travel hoodie, a tactical fleece, a waterproof windbreaker and a performance parka, Adv3nture Jackets have created a solution for every type of weather condition and outdoor environment.
"Building on the enormous success of our Adv3nture Hoodie, Adv3nture Jackets have more innovations than our original hoodie, are designed with an extraordinary attention to detail, and seamlessly integrate into each other to provide varying levels of warmth and protection," said Lamprey. "When traveling, it's tough to be able to pick two or three jackets that will work in any weather. That's why this jacket line is doing so well on Kickstarter. When worn alone, you're wearing one of the warmest – and coolest – jackets you can find. When layered, they're a game changer."
Adv3nture Jackets consist of two inner layers: The Voyageurs Hoodie (an evolved version of the Adv3nture Hoodie, the number one most successful fashion Kickstarter in history) and the sophisticated Badlands Fleece; and two outer layers: the water and windproof Wind Cave Windbreaker and the cozy Glacier Parka. The inner layers can be comfortably worn on their own or can zip and secure seamlessly into the outer layers to create a thoroughly toasty experience.
●      Voyageurs Hoodie - The Voyageurs Hoodie is the world's most comfortable and versatile hoodie, with over 23+ pockets, features and updates, including enhanced fabric quality, overlock stitching, zippers, pillow conversion and updated beverage opener. It's designed to travel, but is destined to be your favorite everyday hoodie. It easily zips and secures into the Windbreaker and the Parka. EARLY BIRD PRICE $99 (MSRP $129)
●      Badlands Fleece - Named for Badlands National Park, this is a sophisticated full-zip fleece jacket. Strategically placed quilted patches offer abrasion resistance on shoulders for backpack straps, and elbows for commuting and working at your desk. It also zips and secures seamlessly into the Windbreaker and the Parka. EARLY BIRD PRICE $99 (MSRP $139)
●      Wind Cave Windbreaker - The Wind Cave Windbreaker is a waterproof jacket with taped seams and waterproof zippers. Either of the inner layers zip and secure into the windbreaker, making it waterproof and warm. EARLY BIRD PRICE $139 (MSRP $179)
●      Glacier Parka - The Glacier Parka is a premium winter jacket with ten pockets and a faux fur collar. It's perfect for winter hikes, walking around the city, and it's durable enough for hitting the slopes. With either of the inner layers zipped in, it is rated to sub-zero temperatures. EARLY BIRD PRICE $179 (MSRP $299)
Coinciding with the Adv3nture Jackets campaign, Adv3nture launches its Three Trees program, planting three indigenous trees in areas of the US that have been affected by forest fires and deforestation with every purchase of an Adv3nture product.  
"This program addresses our concerns about air quality, ecosystem restoration, loss of wild places and reduction of wildlife habitats," added Lamprey. "Adv3nture customers will not only own the most innovative jackets available, but also play a role in an important mission we take very seriously."  
About Adv3nture: Adv3nture is a California-based apparel company that creates clothing based on an appreciation of and need for adventure. The Adv3nture brand brings together a team of industry experts and passionate environmentalists with experience in the technical aspects of fashion design and high-quality outerwear. Adv3nture embraces a love of exploration, nature, giving back…and the occasional adult beverage. Prior to founding Adv3nture and launching the Kickstarter record-breaker Adv3nture Hoodie in 2016, CEO Zane Lamprey was best known as host of hit travel shows Three Sheets, Drinking Made Easy and Chug, among several others.
Adv3nture Website: www.Adv3nture.com
Zane Lamprey Website: www.zanelamprey.com
Kickstarter Campaign: https://www.kickstarter.com/projects/273791656/adv3nture-jackets/description
Media Contact: 
PublicHaus 
Phone: 323.521.4340
Email: ryan@publichausagency.com
Source: Adv3nture
Share:
---
Categories: Environmental Protection, Travel, Fashion and Apparel Industry
Tags: adv3nture jackets, kickstarter, travel
---