ACI Solutions Proudly Sponsors Cornerstones and the 37th Annual Capital Steps Performance
Press Release
•
updated: Feb 10, 2020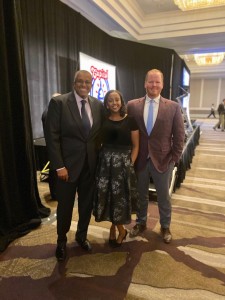 HERNDON, Va., February 10, 2020 (Newswire.com) - Cornerstones, a Virginia based non-profit organization, recently hosted the 37th Annual Capital Steps Performance. Cornerstones' 37th Annual Benefit Performance of Capitol Steps took place at the Hyatt Regency Reston before a sold-out crowd of 700 guests who came for an evening of comedic political satire all to support an important cause – to help families in Cornerstones' Embry Rucker Community Shelter move to permanent housing. ACI Solutions has proudly sponsored Cornerstones since 2017 as we understand how critical the Mission is to their community's vitality. The 37th Annual Benefit raised a record amount of over $365,000 through the generous support of sponsors and donors.
Established in 1970 to address the need for affordable housing, Cornerstones has grown to become a significant human services provider and advocate for those struggling to make ends meet in northwestern Fairfax County and the Dulles corridor. In this otherwise wealthy and well-resourced region, the number of community residents coming to Cornerstones for one or more services continues to be alarmingly high. During Fiscal Year 2019 (FY19), Cornerstones served approximately 16,920 individuals, including 3,828 families and 6,569 children in northwestern Fairfax County who were experiencing homelessness, living in poverty or facing other needs.
ACI Solutions has a long history of dedicating time and resources to the local community, proudly serving as one of Reston VA's leading small, minority-owned businesses. Nasra Abdi, ACI's CEO, explains why Cornerstones is a perfect pairing with ACI: "Cornerstones' mission of providing a helping hand to the needy aligns with our Team's values and dedication to service". Mrs. Abdi also notes that "As a community leader in Reston, it is important for ACI and all local businesses to give back into the community in which we reside. The stability of our environment directly impacts the stability of our Team". ACI is looking forward to 2020 being our most philanthropic giving year to date, ensuring we continue making a positive communal impact.
Source: ACI Solutions