ACI Solutions Participates in World Water Day
Press Release
•
updated: Mar 29, 2019
ACI's CEO, Nasra Abdi discusses the importance of clean water sources for all and how this will empower women.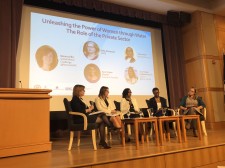 RESTON, Va., March 29, 2019 (Newswire.com) - On March 21, ACI Solutions Inc. Chief Executive Officer, Mrs. Nasra Abdi proudly participated in The World Water Day conference hosted by US Department of State, USAID, Aspen Institute, Global Water Challenge, US Water Partnership and Global Water 2020. Mrs. Abdi was part of a distinguished panel of leaders from Global Water Challenge, Procter and Gamble, Gap Inc and CARE, with the focus on "Unleashing the Power of Women through Water: The Role of the Private Sector." The forum-based conversation focused on empowering women through clean water and supporting causes around the world.
Mrs. Abdi, who was born in Somalia, has a unique perspective and shared her personal experience with the struggles women and communities face when clean water access is limited or nonexistent. As part of the panel, Mrs. Abdi highlighted the effects of lacking clean and drinkable water in communities that flee their homes due to war and civil unrest. "In refugee camps, there is water, but it is either scarce or is highly contaminated. It goes against all basic human rights to not have access to sources of clean water."
Mrs. Abdi's experience was the catalyst for co-founding ACI Solutions, a technology company that specializes in managing infrastructure through innovation. "Through technology, we have the power and the knowledge to better the living conditions for countless people. ACI's capabilities provide an innovative approach to managing critical infrastructure and helps keep clean water sources secure and safe. Proper water security management ensures water is transported from one location to the next without diversions, at an acceptable water quality level, delivered over infrastructure operating at appropriate maintenance levels. Any break within that chain creates water security issues for communities."
Mrs. Abdi closed out her remarks by reiterating that "Access to clean water should be a basic human right. As a Water Community, we have to jointly leverage our platforms to support communities and keep them strong." Through partnerships with Private and Public Sectors, and platforms such as World Water Day, ACI Solutions will continue to make tremendous strides in the global issue around water security and access to clean water.
Source: ACI Solutions