AccuZIP Proudly Receives the Prestigious Vanguard Pioneer Award in the RED HOT Technology Vanguard Award Program
AccuZIP's AccuEngage is just one of two products to gain recognition as a Vanguard Pioneer Award recipient, and only one of nine total recognized products in the entire Vanguard program. This is an additional level of recognition judged on the product's impact as an industry game-changer.
Press Release
-
updated: Oct 4, 2018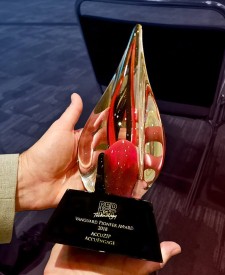 ATASCADERO, Calif., October 4, 2018 (Newswire.com) - On the eve of PRINT 18's official kickoff, the Association for PRINT Technologies (APTech) announced the inaugural Red Hot Technology Vanguard Awards recognizing innovative products and services that promise to advance the graphic communications industry.
"The Vanguard Award winners are all potential game-changers that open new business opportunities and new markets," said Julie Shaffer, associate vice president, program and community development, Association for Print Technologies. "We base our selections on industry impact, rather than by product category, so the program is less a competitive faceoff and more about what these products mean to the industry as a whole." 
The specific award conferred on AccuEngage is the Vanguard Pioneer Award.  AccuEngage is the first service that assists mailers and marketers in creating campaigns using the USPS® technology, Informed Delivery®, which provides consumers with digital previews of their household mail. By offering training, campaign set-up and Professional Services support, AccuZIP is demystifying and eliminating confusion about this new USPS technology, helping all participants in the mailing industry to pioneer a new marketing tool and ultimately be more successful with their Direct Mail campaigns resulting in increased revenue and mail volume.
To be recognized for a Pioneer Award, a product must be an entirely new technology or a product not used before in the graphic communication industry. Already recognized as a RED HOT Technology in the program's Marketing and Multi-Channel Solutions category, AccuEngage was entered for additional consideration in the prestigious inaugural Vanguard Awards program. Products entered into the RED HOT Technology recognition program had the option to submit an entry for additional consideration for a Red Hot Vanguard Award. The Vanguard Award program recognizes products based on their merit as "game changers" for the industry in one of three categories -Breakthrough, Pioneer and Collaborative – and is competitive, with recipients in each category. Entries for Vanguard Awards were considered for recognition by the evaluation team together with a panel of industry experts. The awards champion the products and solutions on display at PRINT 18 with the greatest potential impact on the industry. The announcement of Vanguard Award Recipients was made at a special ceremony held on September 29th at McCormick Place hosted by the Association for Print Technologies. The stunning Vanguard Award Trophies were distributed to recipients at the ceremony.
"I was honored to represent AccuZIP and receive the Vanguard Pioneer Award trophy at Saturday's special ceremony in Chicago. The trophy is beautiful and a reflection of the caliber of the Award itself.  AccuZIP was honored to be a part of the exclusive group receiving this award. Congratulations to all of the Vanguard Award recipients." - Eric Lambeth, Senior Product Specialist  - AccuZIP, Inc.
PRINT 18 was held September 30th through October 2, 2018 at McCormick Place in Chicago. The Vanguard Award recipients were invited to attend a special ceremony to accept the trophy acknowledging this recognition on September 29th, 2018.
About the Association for PRINT Technologies
The Association for PRINT Technologies is a purpose-driven organization dedicated to supporting the entire graphic communications value chain. We believe in helping our members maximize alignment with their value chain partners to be more effective and competitive. Printing has been vital to communication for decades; today, the digital culture has heightened our industry's complexity and reframed its relevance. Our signature event—PRINT®—answers the call by bringing the boldest and brightest innovators, influencers, and newest technology together to create connections that showcase and advance our industry. For complete information about the Association, its programs, and its member companies, visit: www.PrintTechnologies.org or phone: 703/264-7200.
About AccuZIP Inc.
AccuZIP Inc., a national software company, provides feature-rich solutions to manage Contact Data Quality, Address Hygiene, USPS Postal Presorting and Compliance and Mail Tracking and Reporting. AccuZIP's solutions are designed to be utilized across many industry verticals to streamline, standardize and simplify processes associated with data entry, data management and multi-channel communications. AccuZIP's products and services make it easier for businesses to get their message out to the right people at the right location when they need to most. In business for over 26 years, the company has built an outstanding reputation for value, service and innovation. Mission Statement: AccuZIP simplifies direct mail and data quality processes. This is accomplished by innovative products, responsive service, reliable updates, efficient software, long-range vision and commitment to loyal customer partnerships. Our Technology. Your Success. https://www.accuzip.com
Source: AccuZIP, Inc.
Share:
---
Categories: Marketing
Tags: Informed Delivery, Pioneer, PRINT 18, RED HOT Technology, Vanguard Award
---