AccuZIP, Inc. Announces Standalone Data Enhancement Services Product Launch
Press Release
•
updated: Jun 21, 2016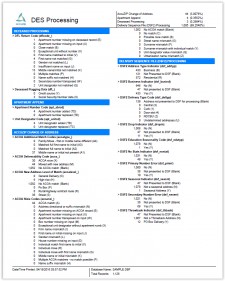 ATASCADERO, CA, June 21, 2016 (Newswire.com) - AccuZIP, Inc. is announcing the release of a standalone version of their very popular Data Enhancement Services (DES) module. This will allow anyone with a computer and Internet connection to download and use the DES software.
The Data Enhancement Services Standalone Package contains four services:
"Our Data Enhancement Services application is free to download and can be used by any person or business that has a need to keep their important contact data updated and relevant. Unlike other vendors there are no minimums and you receive all four services for one flat fee, making it a must have for good data quality practices."

Kristen McKiernan, President
The Delivery Sequence File-Second Generation (DSF2®​​)
DSF2 processing allows the deep postal discounts offered by the USPS's, ECR Saturation, High Density and High Density Plus preparations. These savings can be as high as a six cents per piece.
Apartment Append
Apartment Append updates missing or incorrect unit data, increasing delivery rates and reducing return costs.
AccuZIP Change of Address (ACOA)
Using non-USPS sources, ACOA reaches those movers who did not update their move with the USPS.
Deceased List Processing
Deceased suppression saves money and time spent with complaints and embarrassing phone calls from the bereaved. You only know how valuable this service can be after you receive one of these calls.
The download and software are free. You pay on a per piece sliding scale.
1-250,000 $1.00 per thousand
250,001-2,000,000 $0.75 per thousand
2,000,001-10,000,000 $0.50 per thousand
The total cost to process 3,110 records is only $3.11!
DES Advantages
You can choose one or all services for the same low price. No minimums.
Credits can be purchased in advance. No need to use a credit card each time you process.
All files are processed in real-time and the response is in minutes.
The competitive price of DES makes it an excellent value.
The Standalone DES product is available now at http://www.accuzip.com/products/des/index.htm
About AccuZIP, Inc.:
AccuZIP, Inc., a national software company based in Atascadero, CA. Now into our third decade, AccuZIP provides feature-rich solutions to manage Contact Data Quality, Address Hygiene, USPS Postal Presorting and Compliance, Mail Tracking and Reporting and much more! Our solutions, whether used as standalone solutions or integrated into strategic industry partner platforms provide functionality to many industry verticals to streamline, standardize, automate and simplify processes associated with data entry, data management and multi-channel communications. (www.accuzip.com)
Source: AccuZIP, Inc.
Related Media
Related Files